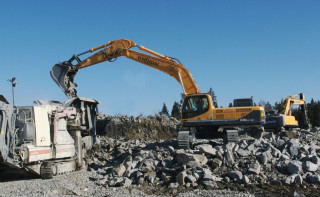 Taylor & Braithwaite, the Hyundai dealer in Cumbria, is promising 'all action' working demonstrations. The three-day event runs from Thursday 23rd October through to Saturday 25th October 2015 at Roan Edge Quarry in Kendal (just off junction 37 of the M6).
The 42.6-tonne R430LC-9A excavator was launched at the Hillhead show back in June but will be shown working for the first time in the UK.
Take along your CPCS card or equivalent, and appropriate PPE, and you'll get the opportunity for a test drive.
Also making an appearance will be the HL780-9A wheeled loader and making its UK debut will be the HL760-9A wheeled loader in waste handling spec (as shown below), which will also available for test driving.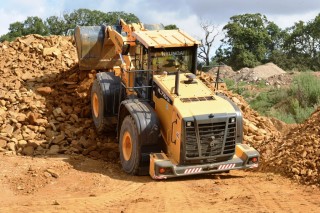 A further 10 Hyundai machines across the weight ranges will also be at the event from the R25 to the R300LC-9A.

ProDem attachments and Maximus crushing and screening machines will also be in action at the event.
"We will have around 40 items of machinery at this event and there's lots going on," says Taylor & Braithwaite's sales director Ian Burton. "We also have an operator's competition running throughout the three days with a 1st, 2nd and 3rd prize – with cash up for grabs. The winners will be announced on the Saturday. We have put a lot of work into this event and we are looking forward to seeing lots of visitors through the gates."
For further information see www.t-and-b.co.uk.
And if you don't get chance to see it for yourself, there's some footage here of the R430LC-9A at work in a quarry in Finland