GGR Group's range of Unic mini cranes and vacuum glass lifters have been featured on the last two episodes of Grand Designs and are due to appear on a further episode in the upcoming weeks.
The popular Channel 4 series, presented by Kevin McCloud, has recently shown a Unic URW-506 mini spider crane helping to erect steelwork to create a contemporary South London mansion and a Four-in-Line glass vacuum lifter being used to install large sheets of glass for an impressive cathedral style window in a renovated Northumberland mill cottage.
The episode which is due to air on Wednesday 5th October, 9pm, will show Unic URW-295 mini crane and vacuum lifter installing a glass entrance screen for a massive barn conversion in Essex.

GGR Group CEO, Graeme Riley comments, "It's great to see some our best-selling products involved in the exciting projects featured on Grand Designs. I hope that it will show the viewers how our wide range of lifting equipment can provide a solution to many construction challenges."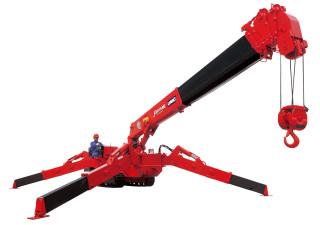 As a specialist in lifting equipment for the construction industry since the company opened in 1995, GGR Group also offers customersfully qualified crane operators, contract lift services, site surveys, 24 hour emergency technical advice and accredited training courses.