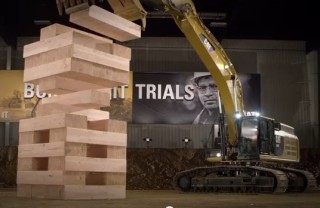 They've produced this video, below, showing how the operators worked together to raise the height of a huge block tower using Cat machines.
Cat 320E and 349E hydraulic excavators, a TH514C telehandler, a 277D skid steer loader and a M316D wheel excavator were all used to reposition wooden blocks each weighing more than 270kg.
Jeremy Nugent, general manager sales & marketing at dealer Finning, said: "When I first saw the challenge video I was amazed at the skill of the operators and how they worked with the machines. Everyone has played a similar game on a much smaller scale and knows how difficult it is, ultimately we all want to see them 'stack' it. You can't help but admire the way the operators worked together and really tested both their skills and the capabilities of the Caterpillar equipment."

Finning is inviting viewers to count how many blocks were moved before it toppled and tweet the answer to @finningnews. They are offering a Cat goodie bag as a prize for one lucky winner.
There is also a behind the scenes video, here: