Gilpin Demolition, based in Heathfield, Newton Abbot, Devon, have been in business for 20 years, and have built up a wealth of experience in all types of demolition projects throughout the United Kingdom. They are very dominant in the South West, have a large client base and a reputation that is second to none. The company is headed by Sam Glipin, himself a highly experienced operator, who has gained notoriety in the past when taking part in various Caterpillar challenges in the UK and Spain.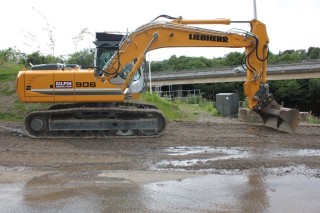 Gilpin Demolition have always been big Caterpillar and Hitachi end users, so it came as a pleasant surprise when I spotted the Liebherr R906LC as we don't get to see many Liebherr products down here in the West Country.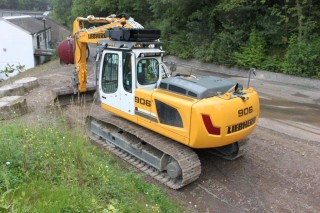 The numbering system on Liebherr machines is somewhat confusing, but the R906LC weighs in at around 22,400kg which would put the machine in the 22 ton class bracket depending on specification. It is powered by Liebherr's own D934S 4 cylinder turbo charged engine, which has a power output of 105kw/143hp. As one would expect, all Liebherr engines meet current legistration directives of Stage IIIA/Tier 3, which means reduced nitrogen and fine dust emissions.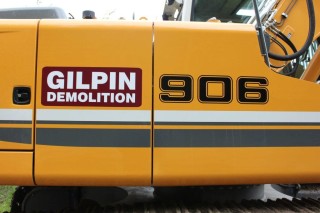 Liebherr machines have always been associated with quality, and this new generation 6 machine, built at the company's Colmar production facility in France, certainly looked well built as one would expect from German design & engineering. The undercarriage looks very well engineered and with its X-design chassis distributing the forces evenly, the life span of all undercarriage components is said to be greatly increased. The fitting of larger drive sprockets also increases travel speed to 6.1 km/h, making the R 906 the fastest excavator in its class.
There are two styles of cab available, the Classic and the Advanced; the Gilpin Demolition machine is fitted with the Classic version. No matter which cab you choose it still looks a nice place to be working in, with excellent visibility through the large laminated safety glass windows, as is the norm these days the right hand pane has no middle bar further increasing the operators view. The operator's seat is fully adjustable and vibration damped, the operator is also treated to fully automatic heating/climate control as standard and features more than 12 adjustable air nozzles with which to control air flow. There is also plenty of stowage space behind the seat for tools, lunch bag, etc.
There is also a large glare-free 7-inch high resolution colour display screen, which also includes a touch-screen system, which like many on the market today tells the operator all vital machine functions including fuel level, water and oil temperatures etc, but also doubles up as the rear view camera screen. The rear view camera itself gives a viewing angle of some 120 degrees and provides a complete view of the area behind the machine.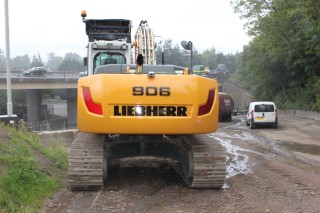 This machine is also fitted with the latest Geith "Claw" fully automatic twin locking quick hitch, in my opinion one of the best hitches on the market today.
Mr Gilpin said "dealing with the Liebherr purchase was so easy for us, we found the company to be extremely efficient and the machine was delivered on time as agreed".
So what was the machine like to operate? Sadly on this occasion I can't answer that as I didn't get a chance to try the machine out. Hopefully in the future I will get hands on with some Liebherr kit and be able to report on them here on the Digger Blog like I have with other manufacturers.
I think that one of the last Liebherr's I spent some time on was this 911, which was owned by Edarn Plant of Sutton Scotney, working on the M27 construction site near Southampton in 1974 when I used to go to work with my Father. As you can see they have come a long way since those days!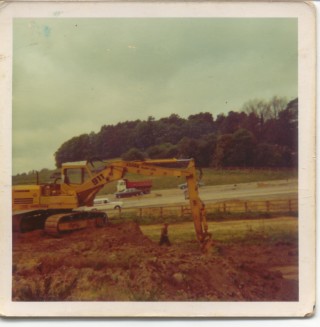 The Digger Blog would like to thank the team at Gilpin Demolition for allowing me access to their new machine.