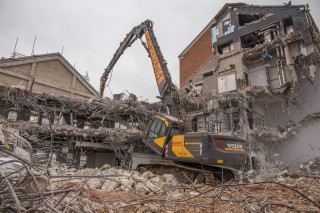 Built in the 1990s at a cost of around £35m, Colonial House in Chatham's Quayside has been empty for the last few years and is now making way for new flats.
Developer of the new Colonial Wharf waterfront development on the south bank of the Medway estuary is Persimmon Homes, which has entrusted the site clearance to Goody Demolition.
Goody is using its high-reach Volvo EC300E to do the job.
Site clearance and demolition is well under way but it is tough going. "The building is a heavily reinforced concrete structure with an outer brick skin and a steel roof," says Paul Hougham, who doubles up as site manager and high-reach machine operator. "And given the amount of steel buried within the concrete, it was probably engineered to withstand an earthquake."
The site team is guessing that there could be more than 4,000 tonnes of steel pulled out by the time they are finished. "Demolition is one of few jobs where material content and dismantling is an unknown process – you don't know what you're going to really find, until you get stuck in," Paul Hougham says.
"This is one of those buildings that was never going to fall down, nor come apart easily," he adds. "And this job is a meticulous and methodical process of dismantling that demands decent fire-power."
That power comes in two forms. The first part of the process is high-reach demolition using a Volvo EC300E equipped with a Kocurek three-piece boom. With a main boom of 7.8-metres, an intermediate 2.15-metre section and a 6.25-metre demolition stick, it has a generous working envelope with a forward reach of 12 metres and a working height of 21 metres.
The second element is a Volvo EC480E excavator working at ground level. Equipped with a hydraulic breaker, the EC480E has the job of dismantling wall and floor sections that have been brought down by the high-reach.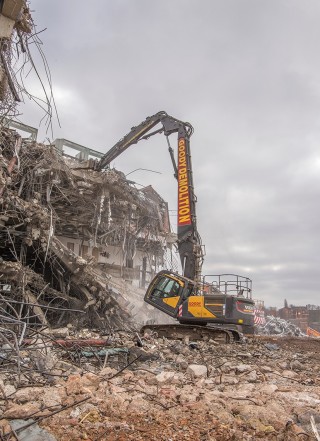 "The height of the building is no problem to our EC300E but with the base machine being a 30-tonner, it does limit the size of attachment," Hougham explains. "The high working envelope dictates that we can only use a breaker or a concrete cracker from a 20-tonne excavator, so we're working with smaller sections, but it does mean pieces are much more manageable."

He says that the heavier EC480E makes light work of separating concrete from steel, allowing sorting to take place with 21-tonne excavators equipped with grabs.
The high-reach EC300E is working from the top, systematically lowering the building by weakening the floors and their supporting pillars. This lets the team lower sections of floor on a layer-by-layer basis, until concrete slabs are within reach of the more powerful, heavier EC480E.
The reach also lets the EC300E stand back at a safe distance, which keeps the machine and its operator in a safer environment.
"We've tried a nibbler, but the density of steel within the concrete is doing such a good job of holding it all up, that the only way to make initial progress is with a hydraulic breaker," he says. "But there's plenty to go at as we bring the layers down."
Concrete is being crushed on-site and used for bunding and fill material, with steel being sorted and cut, ready for disposal.
The EC300E was converted to high-reach by Kocurek Excavators when new, four years ago, and is Goody's first high-reach Volvo excavator – but this is only the second job that it has ever worked on.
It has a hydraulic tilting cab and Kocurek's modular joint system With hydraulic locking pins and a cradle to store the high-reach front-end when not in use, swapping between the standard boom and three-piece high-reach configuration can be done in under 10 minutes.
"It really is a versatile piece of kit," Paul Hougham says. "And when the standard boom is fitted, the EC300E benefits from a really generous working envelope – having a straight boom instead of a curved boom really does give us much more, and this boosts productivity."