"We needed a two to two and a half tonne mini excavator that was inside the legal limit for towing, but that could also dig to a depth of seven feet with square hole digging characteristics," said Highland Council's Fleet & Maintenance Manager Willie MacPherson. And having evaluated the available competition and following a successful demonstration and subsequent tender the Council favoured the package on offer from Volvo Construction Equipment. "We were very pleased with the performance of the machine whilst it was on demo and in particular the fact that it could dig to the seven foot criteria at full reach without having to re-position itself," he continued.
The two tonne EC20C has been supplied with two 24" buckets, adapted for square hole digging and more uniquely with twin dozer blades. Each blade has been fitted with swivelling pads in order to avoid the least amount of damage to cemetery pathways and grass surrounding the graves.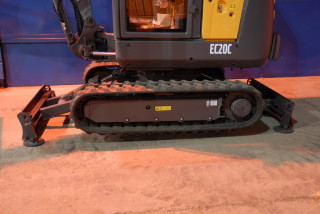 An additional spool valve was installed and mounted on top of the undercarriage chassis to control the independent movements of either the front or the rear blade. The machine can be made level on undulating or difficult terrain to dig a perfect burial plot with the minimum of disturbance to the immediate surroundings.

The new Volvo EC20C is one of four machines ranging between 1.5 and 2.0 tonnes and is a direct replacement for the EC20B model. Powered by a 12.3 Kw (16.8hp) engine, the machine features automatic two speed travel and extendable undercarriage as standard. One significant change on the new models is that hydraulic hoses for the digging equipment are now routed through the boom and cylinders are top mounted to minimize on site damage.
The machine supplied to Highland Council features a full cab – a canopy version is also available. The 2.0 tonne compact excavator also benefits from load-sensing hydraulic system for fast cycle times, even when carrying out multiple functions. Maximum dig depth is a generous 2.5 metres.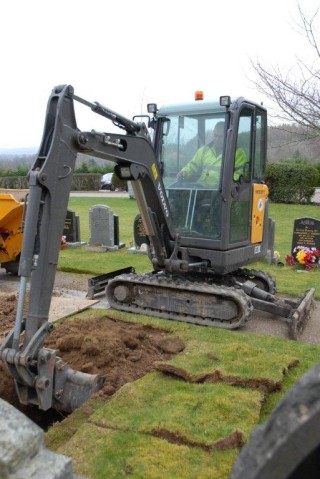 A single piece engine hood provides unobstructed access to all the engine components whilst the instrument panel provides at-a-glance monitoring of all key functions. The cab's easy to clean flat floor panel lifts for access to hydraulics and main control valve.