Purchasing a new Volvo machine has been a new departure for proprietor Brian Dunstan and a well considered investment in his opinion. "I've been impressed with the overall quality on offer from Volvo for some time and decided to put them to the test when it was time to replace one of my older mini excavators," he said. "And so far, along with my operators, I'm more than pleased with the outcome."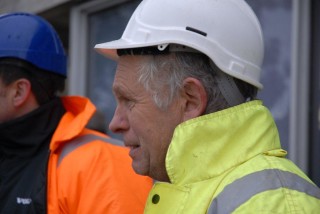 Joining a mixed fleet of equipment including mini excavators, & 20 tonne excavators and backhoe loaders the relatively new EC27C replaces the previous EC25 and EC30 models. Powered by a Volvo 1.6 litre low emission Tier III the machine delivers the performance in the range of the previous Volvo EC30 – yet with a compact design reminiscent of the smaller EC25.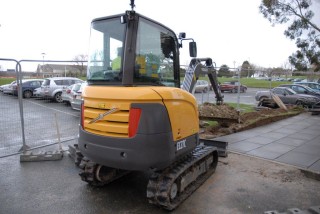 The conventional excavator design provides exceptional stability along with minimal superstructure swing. Simultaneous control of slew and offset movements provides faster, more precise performance due to the right joystick control lever that features an electronically proportional roller.
Photo Digger Blog archive
This allows the operator to accurately adjust hydraulic flow as needed. All hydraulic functions are performed in total independence for more control and less delay when handling multiple tasks. An automatic two-speed travel system engages when operating in high speed mode, automatically shifting gear from high to low according to the travel load. Another feature for increased efficiency is the standard auto-idling system that lowers engine speed to idle if a control is not used for five seconds. The engine reverts to the pre-selected speed almost instantly when any control is moved. This system delivers lower fuel consumption, longer engine life and less environmental noise.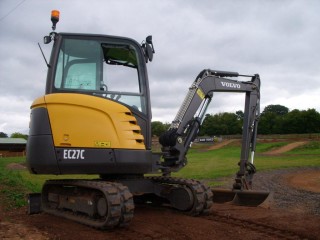 Photo Digger Blog archive

The EC27C features Volvo's industry-leading comfortable cab for less fatigue and more production. The ergonomically-designed cab offers greater leg and foot room, making it one of the most spacious in its category. Optional air conditioning with an included heater is also available, for year-round productivity in hot, humid or cold climates.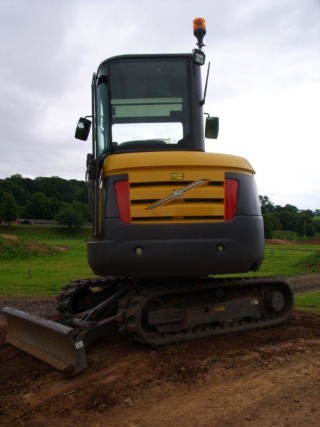 Photo Digger Blog archive
H Dunstan & Sons offers a general contracting service along with some operated plant hire throughout Cornwall, specialising in sub-contracting to larger contracts involved in the refurbishment and repair of local authority facilities.
Plant & Engineering Services of Beare near Exeter Ltd is the dealer for Volvo utility covering the south west of England. As a customer and friend of the team at PES, I can't praise them enough, very helpful and nice people to do business with. And great supporters of the Digger Blog too!