Run as part of 'National Apprentice Week' the open day will see Finning opening the doors to its £1m state of the art apprentice training academy in Cannock, West Midlands on the 9th February 2011 from 4pm – 8pm.
With 25 new places available for the Finning 2011 apprentice intake, open day visitors will be given the opportunity to join some of the world's best heavy plant engineers to find out what is involved in the industry leading scheme and how to apply for the 2011 intake.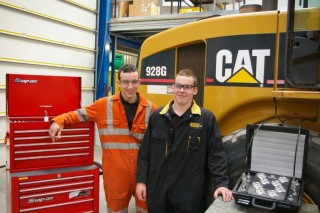 Having recently been declared 'Outstanding' in an Ofsted inspection of the scheme, academy, trainers and apprentices, the award winning purpose built £1m facility is the nationwide base for all Finning apprentice training for the UK and Ireland.
Several other Finning branches around the UK will also be opening their doors to apprentices over the coming weeks including locations in Llantrisant, Chesterfield, Leeds, Glasgow and Halstead.
The hopeful future engineering talent will have a guided tour of the working facilities, see what goes on in the job once apprentices are qualified, talk to experienced Finning employees and instructors and meet Finning apprentices currently enrolled on the apprenticeship scheme to get a first hand view of what they think of being Finning apprentice.
Finning has an unrivalled reputation of producing the best heavy plant engineers the world over, and the open day is an opportunity to inspire the generation that will pass through the state of the art academy.

Neil Dickinson, Managing Director comments on Finning's commitment to its apprentice scheme: "We like to look at the apprenticeship scheme as a long-term career choice that opens up many other doors. There are numerous people working in Finning's upper ranks having completed an apprenticeship during which time they've also gained an indepth knowledge of the industry.
"As a responsible employer, there are only a few organisations like us that have invested so much time and resources in what is now recognised by Ofsted as an 'Outstanding' academy. I can definitely say that without question our apprentices are the best in the industry. They work on quality equipment, have all the resources to hand that they need to learn and all of the support they would expect from an extremely experienced team."
"Apart from presenting exciting opportunities with Finning, our engineers can follow many other paths as part of our continual improvement programs. Caterpillar is a global brand, and although we don't want them to leave Finning, being specialised in working on Caterpillar equipment can take them all over the world.
"We're very excited to meet the potential apprentices of the future and give them all the help and advice we can; they are very important to us as without them Finning and the industry we are involved in wouldn't have a future."
If you are interested in becoming a Finning apprentice, ensure you put Finning Apprentice Day on the 9th of February from 4pm to 8pm at Finning's Cannock headquarters in your diary. You need to register for the open day so send details of your attendance to communications@finning.co.uk.
For more info on Finning's apprenticeship scheme and to watch a video go to: www.finning.co.uk/careers_and_training/default.aspx