From its early inception nearly 4 years ago, the Digger Blog has really gone from strength to strength. Today, it has a massive following consisting of operators, plant enthusiasts, equipment and attachment manufacturers and other top industry professionals. For me personally, I feel the support I get from my readers is pivotal to the blogs success, and it's a great honour to see that the blog is being recognized in this way. After all, I am just a humble machine operator rambling away about topics that interest me and my readers I hope!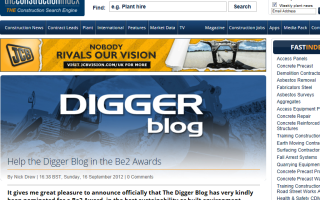 We are now possibly in a position to make the blog an award winner, and if we are to win I will need the readers help again. If you could find a couple of minutes to click on the following link and add your vote for the Digger Blog that would be great.... Be2 Awards Best Sustainability or Built Enviroment category.

It will then be a case of keeping our fingers crossed until the results are announced on the 26th September. We are up against some top class competition in this category, so every little helps as they say!