The machine has been purchased by Essex-based Northeast Demolition UK Ltd. It joins several existing JCB demolition excavators bought by the company over the last four years, including three JS220XD models and one JS330XD.
And the capabilities of the powerful JCB JS360XD model, designed and built by JCB Heavy Products, have been extended thanks to the specialist product knowledge and expertise of Ipswich-based Kocurek, who supplied a modular boom configuration, tilting cab and full demolition protection.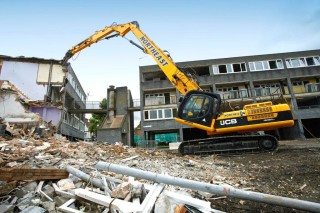 The result is the new JS360 XD HRD demolition excavator, which strengthens JCB's offering in this volume weight class and provides Northeast Demolition with an incredibly stable, durable and accurate demolition excavator. It is also truly versatile as – courtesy of the Kocurek modular joint design – operators can select the optimum boom configuration for each demolition task both quickly and safely, increasing utilisation.
It can work with either a 21-metre, three-piece high reach demolition rig or with a digging rig for lower level or heavy duty operations. The JS360XD HRD sold to Northeast Demolition becomes the first JCB High Reach machine in the North East Demolition fleet. The machine has the ability to power attachments with up to 2.5 tonne capacity and offers unrivalled stability in its weight class.
On delivery, the machine went straight to work on a 10-week demolition project in East London where it is currently dismantling three residential tower blocks in Walthamstow. It has already drawn great praise for its controllability and stability during work on this social housing regeneration project for Hill Partnerships.
Shaun Harvey, Northeast Demolition Director, said: "Our first impressions are excellent. It is a universal machine on which everything has been very well thought out. It is great to drive for the operator, extremely powerful and most of all the stability is fantastic. We have competitive models which can rock about at full stretch but the JCB does not move an inch.
"We have several JCB machines in our fleet as we are delighted to support a true British manufacturer wherever possible and we have always been impressed with the machine quality and support.

"With this new product, JCB has extended its demolition offering and brought it right up to date as the very best cutting-edge equipment available.
"The modular boom gives us a versatile machine that will never be off duty. Whereas some of our machines from other manufacturers spend time in the yard when we don't have high reach projects on – this one will simply switch to the digging boom and provide us with a high performance conventional excavator for groundwork or foundation jobs."
Introduced in response to growing customer demand, an innovative modular system on the new machine provides greater versatility on site. The high-reach boom can now be hydraulically disconnected into a docking cradle once the high level work is complete. The specially adapted JS360 XD base machine can then pick up the digging boom which can be locked into the straight boom position for medium height demolition with a heavy duty attachment, or operated conventionally for working at ground level and below.
With the proven JS360 XD as a base, this specialist model has been also been fitted with a hydraulically tilting cab which allows optimum visibility of the attachment through the large front screen – even when working at full extension.
Furthermore, a full demolition specification safety pack ensures both personnel and the machine are afforded maximum protection on site. This includes FOPS Cab guard, ram guards, track guides, additional counterweighting, water suppression and SIPS (a side impact protection system). Also installed is a Prolec safety system, which provides an audible warning when the machine's safe digging envelope is exceeded.
Founded in 1968, the family-run Northeast Demolition is one of the South-East's longest established and experienced demolition contractors. A prominent member of the NFDC, it offers a full range of demolition and associated services including initial site survey and assessment, hoarding and scaffolding, soft stripping, structural demolition, bulk excavation, reclaim and removal (including asbestos) and complete site clearance.

With a highly qualified workforce in excess of 30, the company acts as a principal contractor for companies such as Higgins Group, Hill Partnership, Western Homes, Mansells, French Kier, Knight Group and Telford Homes and as a direct contractor for Essex Borough Authorities and other private firms. It boasts an extensive fleet of demolition equipment including, mobile concrete crushers, tippers, low loaders and tracked excavators along with concrete pulveriser/ shear and breaker attachments.