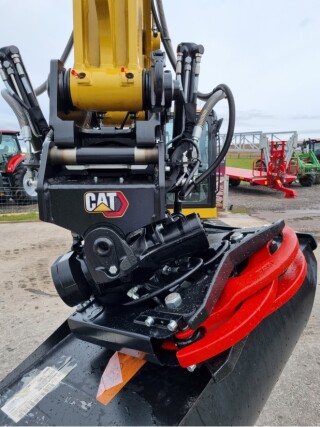 Mark Garrick is using the combination as a demonstrator unit to show its customers in construction and agriculture the benefits that the specialist attachment brings.
The Cat TRS8 comes with on-board technology that has been designed and engineered to integrate with Cat mini excavators and maximise every movement by the operator. When deployed competently, the tilt and turn capabilities of the attachment get the job done more quickly, thus using less fuel as well.
Managing director Mark Garrick said: "We signed a partnership deal with Finning UK & Ireland earlier this year to become an authorised sales and service centre (ASSC) selling Cat Compact equipment. Working with customers across the north of Scotland from our base just outside Elgin, we cover a vast area and it's important that we show what machinery is available that can really make a difference for our clients.

"With the time savings that can be achieved when using the TRS8, thanks to the fact that it does not need the machine to constantly move to work on new areas, this could be a game changer in increasing productivity and getting jobs done quickly when needed."
As well as supplying Mark Garrick with the machine, Finning has supported the ASSC in the set-up of the TRS8. Finning business development manager Simon Lewis said: "This is only one of a handful of TRS8 tilt rotators available to try across the country, so it's a fantastic opportunity for anyone working in agriculture, construction, forestry or landscaping to see just how advanced the technology is – and the benefits that it delivers in terms of fuel efficiency and time savings.
"The TRS8 has brought a new level to excavation in recent years and the dedicated team at Mark Garrick are well placed to show their customers how it can benefit their business. It's great to have this in the Highlands where it will be accessible to construction communities that can make such great use of the additional functionality in their work.
"The development of these attachments, and the tech that supports them, is remarkable in terms of the cost-saving and productivity benefits. We will continue to be on-hand to offer any support that Mark Garrick needs in demonstrating and delivering this fantastic piece of kit."