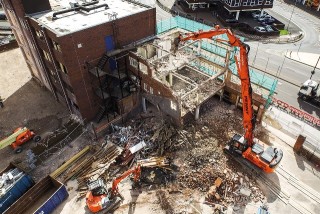 The special application machine was used earlier this summer to pull down a four-storey building at Marston's brewery, home of Pedigree pale ale.
The excavator has a maximum tool weight of 3,000kg and a 23-metre reach, which is as good as it gets from standard OEM machines.
Andy Baker, operations director at Hitachi Construction Machinery (UK) Ltd (HCMUK), says: "The option of a 23-metre high-reach or two-piece demolition boom gives the ZX350LC-5 greater versatility for our customers. It also provides a comfortable and safe working environment for operators. The sound-suppressed, air-conditioned cab is FOPS-compliant, with OPG front and top guards. It is also equipped with a boom angle indicator, swing angle alarm and HRD overload warning system for safe operation. And the smooth and efficient tilting mechanism on the cab enables greater visibility through the pillar-less window."
The ZX350LC-5 is the first high-reach model in Bath-based RM Penny's fleet. The family-run plant hire and demolition company is a longstanding Hitachi customer– owner Roger Penny has been buying them for 40 years. His current fleet includes 23 Zaxis-3 and Zaxis-5 models, including ZX130-5, ZX210-5 and ZX350-5 medium excavators, and a ZW220 wheel loader. He took delivery of the Zaxis-5 demolition machine in March 2014 and by April 2015 it had clocked up 1,500 working hours.
The demolition phase of the project in Wolverhampton took approximately 10 weeks to complete. The work had to be carried out gradually and precisely due to the scaffolding attached to the building, which is next to a busy main road. The ZX350LC-5 was fitted with crusher and grapple attachments, and often operated in economy mode to ensure a high level of precision.
Operator Kevin Penny has worked in the business for 35 years. He says the high-reach demolition model was straightforward to operate: "The settings for the attachments are pre-set for flows and pressures, so they can rotate steadily and at the right speed. It's also easy to change attachments because of this."
He was also impressed by the comfort and visibility: "Once the door closes, the cab feels like your space – like it has been designed specifically for you. I don't always need to tilt the cab when working at heights because the visibility through the extended glass panel in the roof is excellent." A roof window wiper and parallel wipers on the front window ensure excellent visibility and easy cleaning, as does sufficient space between the guard and front window. The Hitachi ZX350LC-5 is a versatile solution for working on different sites. Changing the front equipment is straightforward thanks to the hydraulic pins, and removing the additional counterweight when required is easily done."
He adds: "We can change to the standard front attachment and bucket to load trucks, dig out and finish the job. Previously I operated the larger ZX650, which would be used to demolish two storeys, then moved to another site. The ZX350LC-5 can stay on site for longer and be used for other tasks."