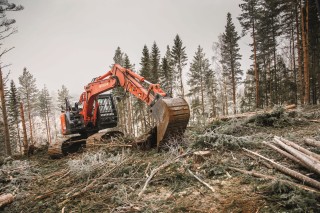 The special application ZX135USL-6 has been designed and engineered specifically for the needs of the conditions found in the European market.
Modified short-tail swing excavators like this are ideal for making access routes, as well as a wide range of other forestry tasks. This machine has a heavier counterweight for greater stability, reinforced parts – such as the undercarriage – for added durability, and a window in the roof of the cab for a better view above.
It also has a higher ground clearance than the standard model for a smooth travelling performance over uneven and rough forest terrains. Additional safety features include a fixed laminated front window and OPG level 2 front guard.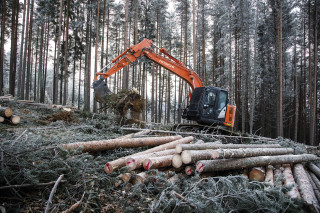 Fageraas Skogsdrift bought the ZX135USL-6 in May 2018 to replace a three-year-old ZX135USL-5 from the same family of Hitachi special application machines. "Hitachi has the best solution for a forestry machine with a short-tail swing," reckons owner Ståle Fageraas. "It is ideal for negotiating narrow spaces and avoiding such obstacles as tree stumps and protruding rocks."

His father, 79-year-old Ole Henrik Fageraas, operates the machine. Ole Henrik was formerly a Nordic Combined skier, who won a bronze medal in the individual event at the 1962 FIS Nordic World Ski Championships in Zakopane, Poland. Since then, he has mastered the art of clearing a different kind of obstacle with excavators.
"Overall, this is an excellent machine that has the perfect specification for this tricky terrain," says Ole Henrik. "It works really well due to the ground clearance, good visibility from the cab and it's lightweight for soft ground.
"The power at my disposal and the precision from the hydraulics are ideal for a machine of its size and this type of work on such uneven ground. It's a really different operating experience to a standard machine."
The ZX135USL-6 has two main tasks on this typical forestry site for Fageraas Skogsdrift: it clears the undergrowth after the trees have been felled; and it prepares the ground for the new trees to be planted.