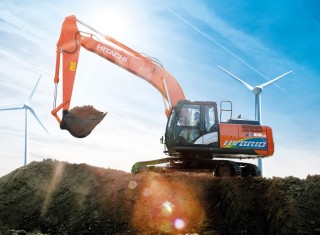 The ZH210-6 has been unveiled for the first time in Europe this month at the Matexpo biennial international trade fair.
Owners and operators in the UK, as well as in the Netherlands, Belgium and Germany, are currently taking part in user tests for the new model, so keep your eyes peeled. These trials will continue until early 2018.
The new hybrid model has the lowest fuel consumption that Hitachi has yet achieved on a medium hydraulic excavator. It has also been designed to further reduce CO2 emissions as well as running costs.
The new power unit of the ZH210-6, which integrates the 73kW diesel engine (smaller than the ZH210-5) and electric power assist motor (44kW), has a significant impact on fuel consumption. Compared with the previous ZH-5 hybrid model, it uses 12% less fuel (in both PWR and ECO mode), and compared with the standard ZX210-6, it offers a 20% fuel saving, the manufacturer says.
The diesel engine output alone is sufficient for ordinary operation, and when maximum power is required for heavy workloads, the electric power assist motor can also be used. This makes the new hybrid model more efficient than the ZH210-5 and the standard ZX210-6.

The new integrated power unit led to the adoption of a new electrical storage device for the ZH210-6. Instead of the capacitor of the ZH210-5, the new model has a large-capacity lithium-ion battery developed by Hitachi Automotive Systems. This has significantly increased continuous output to the electric power assist motor, which means it can support the engine power more and for longer. During light operation, the electric power assist motor acts as a generator and charges the lithium-ion battery unit, similar to how it works in a hybrid car.
Another update from the previous model is the hydraulic TRIAS-HX II system. This has been enhanced for the ZH210-6 to improve the efficiency of the hydraulic system and further reduce fuel consumption. The hydraulic electric swing has also been improved, with an electric motor torque maximum of 220Nm, compared with 160Nm on the ZH210-5.
Unlike the standard Zaxis-6 hydraulic excavators, the ZH210-6 does not use selective catalytic reduction (SCR) technology, which means no AdBlue is needed. Instead the new model meets the Stage IV standards by incorporating an advanced diesel oxidation catalyst (DOC) and diesel particulate filter (DPF).
It also has a new digging arm. The arm of the ZH210-6 hybrid hydraulic excavator is manufactured from high-tensile steel that is 15% lighter than the standard arm of both the ZH210-5 and ZX210-6. This means that less power is required to move the arm, once again contributing to a decrease in fuel consumption. According to Hitachi's tests, the lighter arm comes with no reduction in durability or strength.