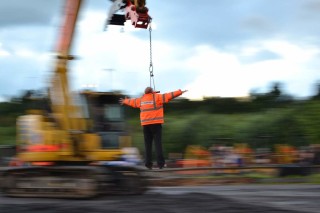 Sadly I was not able to make it to HE Services' family open evening last Saturday (25th July) but word is out of this controversial stunt pulled off by the boss at this event, pictured both above and below. There was no shortage of witnesses, m'lud.
Hugh Edeleanu quite possibly runs more diggers than anyone else in the country so should really know better than anyone exactly what buttons to push to get the health & safety police running to bust you. But that didn't stop him pulling off this stunt – being swung around by a 14-tonne PC138-10 excavator while apparently holding on with only his teeth. Even if there is more substantial support framework hidden under that jacket, that's still not what diggers are made for. You shouldn't even lift people up with them, never mind swing them about in this way.
His warning for others not to try this at home might not be enough to prevent a slap on the wrist, I suspect.
Still, Hugh has long been deviating from the safety manual and finding amusement from diggers. He's got four Diggerland theme parks across the UK and a fifth in the USA. Vice.com calls him 'Tonka Wonka' and 'the Groundforce Gatsby'.
Saturday's celebrations at the original Diggerland theme park, in north Kent, saw more than a thousand people turn up to enjoy digger-related festivities. There was the Champagne Challenge that saw operators take on the task of picking up a bottle of champagne and pouring themselves a glass, using only a JCB 3CX. Then there was the Egg & Spoon Challenge, in which competitors picked up an egg and placed it in an egg cup using a Komatsu PC80.

Those who fancied themselves as strong were invited to pit their strength against a skid steer – 14 competitors beat the machine by pulling it past the halfway mark in less than three minutes. Others went toe-to-toe in Digger Wars in a mechanical sumo wrestle, trying to tip their opponent over.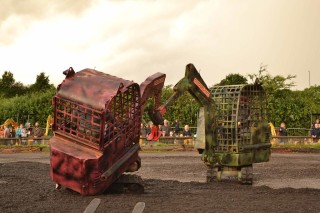 As far as HE Services is concerned, however, the star of the show was its fleet of new JCB Hydradig machines. The company bought 50 of these at Bauma back in April for its hire fleet. This event was a great opportunity to show everyone what they are capable of.