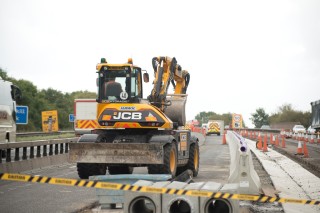 Hawk Plant Hire has added six JCB Hydradig wheeled excavators to its operated plant fleet to meet the needs of contractors working on major motorway contracts.
Four of the machines have been put to work on the M6 J16-J19 smart motorway project. The Carillion Kier joint venture is installing traffic monitoring technology on a 20-mile section of the M6 motorway, between Crewe and Knutsford, for Highways England. The £274m project will convert the existing motorway into an 'all lane running smart motorway', with variable speed limits to manage traffic flow.
The work includes the construction of 18 new emergency refuge areas, replacement and renewal of existing drainage and manholes, installing a ducting system for power and fibre cables, constructing foundations for new gantries, installing gantries and 258 overhead electronic signs and installing 70 CCTV cameras.
Hawk Plant Hire – a division of the Shropshire-based Hawk Group – initially trialled two of the compact wheeled machines earlier in the year. The company runs more than 20 conventional wheeled excavators in a plant fleet of more than 2,500 machines. The two Hydradigs were soon followed by an order for a further four machines.
Hawk Plant Hire director Paul Allman says: "We saw it being an innovative product in the market place, it offers a greater range of visibility, manoeuvrability and lifting capacity than other products can provide. We thought our customers would really appreciate it and the feedback has been excellent.
"We're very focussed on safety, as are our clients, and that's what made us buy additional machines. In terms of a comparison with other products, the main feature is all-round visibility. Greater manoeuvrability has also been a key feedback from customers. We do a lot of motorway work and the Hydradig has been very well received by clients. They are now requesting Hydradig."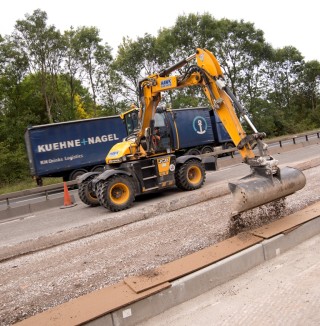 The 11.5-tonne Hydradig 110W can easily rotate its upper structure within a single motorway lane, yet can lift a full 1-tonne at maximum reach, making it an ideal machine to work within the central reservation of the motorway. The machine's all-wheel steer chassis provides a compact turning radius of less than 4m and the Hydradig can travel at up to 40km/h where permitted, for rapid relocation on site.
Operator Laura Smith (pictured out of the cab, below) says: "I've been using the Hydradig since January and the visibility is one of the main features. The 360 [degree] visibility and the stability are essential as we do a lot of lifting in the central reservation. I've lifted up to 1.6 tonnes with the boom three-quarters extended and the machine is very stable. Because the weight is so low down you feel like it has real stability, even over the side."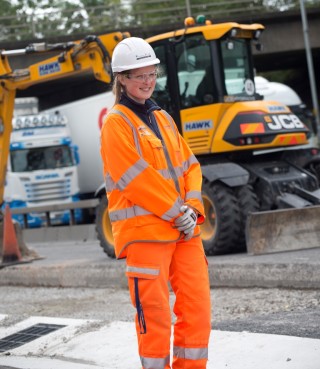 She adds: "The three-piece boom has been really useful, but it's the visibility, not just for me but for the people working around the machine, that they can see me. On a job like this, where space is very tight, it works great. Being able to turn all four wheels makes it easy to get into tight spots.
"It drives a lot smoother than other ducks I've been on. It doesn't nod like other machines and being able to travel at speed is very good. Everything is easily accessible for daily checks too, as the engine is at the bottom of the machine so there is no working at heights. The main thing is the visibility though. It makes it easier to do my job as I can see every aspect."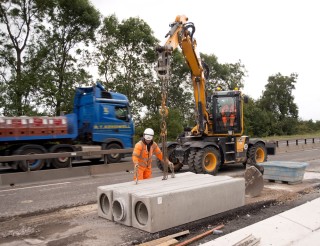 Paul Allman adds: "Visibility is fundamental, a greater field of vision is extremely important. Rubber-tyred excavators are more of a tool carrier. Having such a versatile machine will be increasingly important going forwards. We've just renewed a significant proportion of our fleet and our focus is making sure that our clients get the best equipment available."