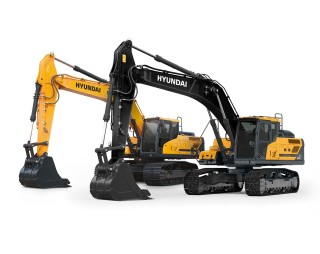 The annual European dealer conference is taking place in Belgium today at HCEE headquarters.
The new Stage V compliant A-series machines, which include wheeled loaders and excavators, will now have their booms painted what is described as "a modern grey-green tone" instead of the previous Hyundai yellow.
Pictured above, for example is the older HX300L excavator on the left and the new HX300AL on the right.
As you can see, the new grey front-end is identical in colour to the undercarriages. And the Hyundai logo on the boom will now be white on black instead of black on yellow.

Pictured below, is the old HL960 loader alongside the new-look HL960A.
Hyundai believes that the new livery will "strengthen the brand image" and help customers to distinguish A-Series machines in the field more easily as they will stand out from the crowd.
More practically, Hyundai tell us, it will also hide the dirt better. Or as they put it: "The new dark tone of the arm and boom will also ensure that the natural discolouration from oil, dirt and grease, will be less visible. Which will also look great from an aesthetic point of view!"
The new colours will be applied to all A-series excavators and A-series wheel loaders with immediate effect.