A 30-tonne Hyundai HX300L, fitted with a Daemo DMS250 sheer, has been used to bring down an old aircraft hangar at the zoo. Working on debris clearance is a 12.5-tonne Hyundai R125LCR-9A, which is fitted with a Daemo DMC140 pulverizer.
Both machines were supplied to MCW Plant by the Manchester-based Hyundai dealer, HES Enterprises.
There are several old hangars at Blackpool zoo, including the entrance building – legacies from the site's previous use as an airfield. The one now demolished, next to the main entrance building, was condemned after a safety inspection revealed it to be unsafe. The space where the demolished hangar stood will now be used for storage and for staff parking. It will also open up views to a new elephant house that is opening this summer.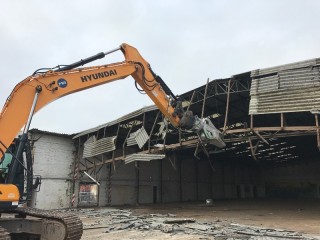 Mark Watson, managing director MCW Plant, says: "The Hyundai machines are very robust and ultra-reliable. We also have in our fleet a R16-9 mini with breaker and grapple – this machine will do the work of four men on strip-out jobs. It's a great little machine, it never stops."
He adds: "Our HX300 is very powerful – even when operating in eco mode, and the fuel-efficiency is second to none, which is a major concern these days, with fuel costs rising.
"The cab in the HX300 is also very comfortable. It's a pleasure to operate even 10 hours a day. Visibility is also spot on in this machine – the AAVM all-round vision camera is superb especially whilst working in a tight spot."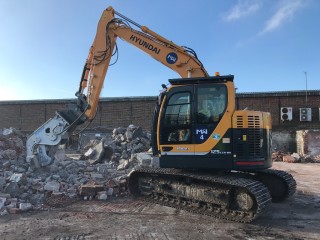 MCW Plant's latest purchase from HES was the Hyundai R125LCR-9A zero tail swing machine. "We bought it so we could transport it on our own hook lift lorry which gives us great flexibility," Mark Watson explains. "We also have a Daemo crusher, selector grab and breaker, as well as a selection of buckets. It's so important these days to get maximum utilisation out of machines. With these attachments the machines have become like Swiss army knives."