Hyundai have had some incredible success with the Dash-9 models since they were launched into Europe at Bauma 2010. Now building on that success, the ever ambitious Korean company, are entering the mining sector with their largest excavator to date, the R1200-9.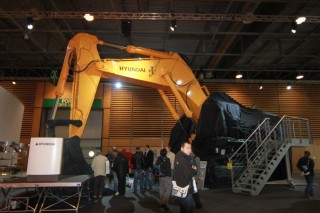 Initially kept under wraps on the Hyundai stand, it was unveiled to the public with the usual razzmatazz we have come to expect from such product launches, with a countdown, music and dancing girls!
Hyundai are keen to develop new products and new market opportunities, and this machine looks set to follow in the successful footsteps of the company's earlier 50 and 80 ton models. The R1200-9 is powered by the high-performance 23 litre, 6-cylinder Cummins QSK23-C which is rated at 760hp (567 kW) an example of which can be seen on the floor in front of the machine in the next photo.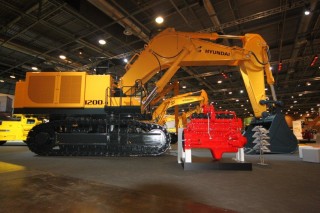 The backhoe version of the new 120t machine is equipped with a heavy-duty 7.55m boom, 3.4m dipper-arm and 6.7 m³ bucket, a combination which gives the machine a maximum digging depth of nearly 8m, an outreach of 13.76m, and a load-over height of 7.8m. Maximum breakout force at the bucket is a massive 64.9 tonnes.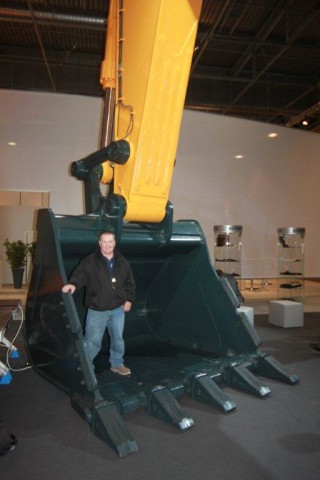 This large scale earthmoving and mining machine has all the usual Dash -9 refinements in the cab, and has three power modes for the operator to choose from which include power, speed & economy.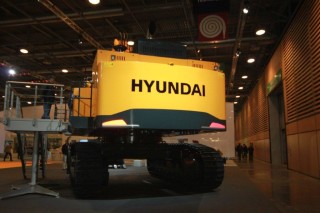 With one model already fully operational in Russia and a number of others out on trial the order book is already filling up. It would be awesome to gain some stick time on one of these machines hopefully in the not too distant future.