Star of the show in Malaga was the all new 980K model, which is said to offer high productivity, reliable performance, excellent fuel efficiency and as with most of the other products at this launch, an engine which is certified to meet stage IIIB emissions standards in Europe.
Operator comfort was once again a high priority on this machine, with a whole raft of driver friendly improvements being offered. Most notable of these improvements is the new electro-hydraulic steering via the left hand joystick, as opposed to having a conventional steering wheel in the cab, this function greatly reduces the operators arm movements thus reducing operator fatigue and without the steering wheel in front of him offers increased visibility to the front end of the machine.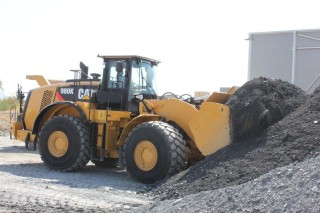 The Cat joystick steering system has an exclusive force-feedback feature that automatically increases joystick effort as ground speed increases. This improves steering control and comfort, especially at higher speeds. The joystick moves side to side; its angle mirrors the machine's articulation angle.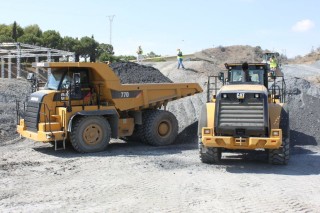 Other additions to the operator station include new access steps that have a greater inclination angle than the previous 980H model, a wider door opening, conveniently placed grab handles, and a new front hinged door that can be opened and closed whilst the operator is seated. A new four post ROPS design has been developed and the operator position has been moved forward slightly thus improving front end vision even further.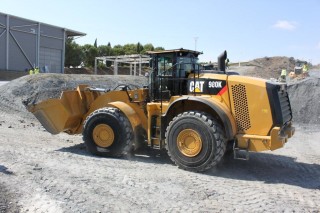 Once again the deployment of a rear view camera, with large colour monitor, aids the operator's all round vision. Inside cab noise levels have been drastically reduced by 50% when compared to the outgoing 980H and is now just 72dB. Noise and vibration is also greatly reduced thanks to the fitting of new viscous cab mounts, there is also an improved automatic climate control system that adjusts temperature and fan speed to the operators preferred setting.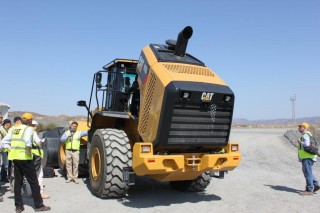 Power on the new 980K comes from the new Cat Acert C13 engine, which offers a net power output of 274kw at 1600 rpm. This engine meets Stage IIIB emissions standards with a suite of technologies that includes an upgraded ADEM 4 control module and an enhanced Mechanical Electronic Unit Injector (MEUI-C) fuel system. The durable Cat Clean Emissions Module is securely mounted on its own platform above the engine and contains a Diesel Oxidation Catalyst, Diesel Particulate Filter and Cat Regeneration System. Regeneration, the process by which soot is removed from the Diesel Particulate Filter, can be set to take place automatically so that it does not interrupt the machine work cycle, and it can be initiated manually by the operator when preferred.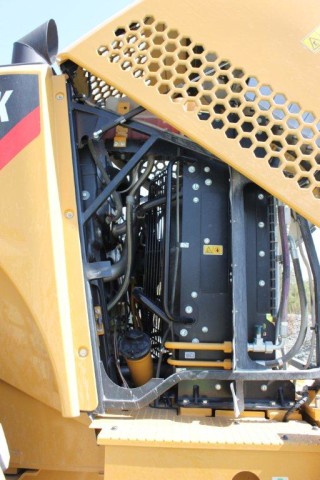 The K series machines feature a new load sensing hydraulic system which automatically directs the right amount of flow to the work implements based on operating conditions. This feature greatly reduces fuel consumption due to the fact that the hydraulic pumps only produce the required flow.
This new hydraulic system also allows parallel flow to lift, tilt and auxillary hydraulics, so the functions can be performed simultaneously. Lift and tilt forces have also been increased by 25 and 16 percent respectively.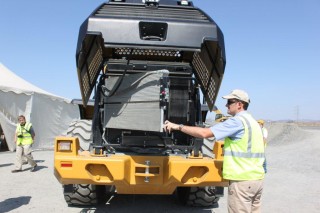 A new high efficiency drive train has been fitted to these machines, to deliver efficient digging power, acceleration, performance and increased fuel efficiency. To boost productivity in load-and-carry applications and on ramps, the 980K can be equipped with a new optional lock-up clutch torque converter.
It is automatically activated in second through fourth gear, and when locked, operates like a direct-drive system. This improves performance and reduces fuel consumption in applications with many load-and-carry and ramp-duty cycles. This improved drive train was aptly demonstrated to us with a race uphill which pitted the new K Series against an older H series machine, the K Series leaving the H model way behind in spectacular fashion.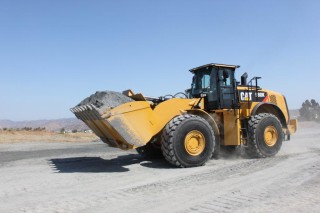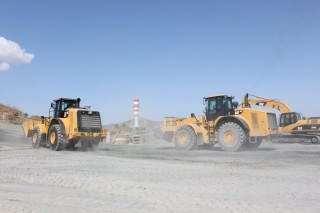 Ground level maintenance is further improved with the large one piece engine hood which is electrically raised to allow easy access to the engine oil dipstick, oil and fuel fillers, and cooler cores for cleaning.
Cat performance series buckets are now fitted as standard on the 980K, specially designed for production loading, the buckets deliver faster fill times and better material retention.