There is no doubt about it, operating plant and machinery can be a lonely business, especially when working on pipelines or large scale earthmoving projects, when one can often be at work miles from anyone. One way I found to ease the boredom in the past was to have my dog with me at work. Another operator who enjoys this form of companionship is Rob Williams, who works for Bartlett Contractors Ltd of Sturminster Newton in Dorset.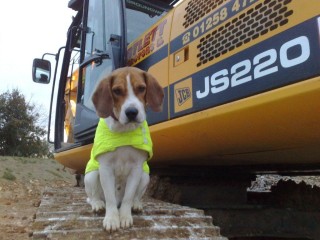 Rob and his partner Fiona are the proud owners of a smashing 3 year old Beagle called Jake, who even has his own Hi-Viz jacket to help him comply with current health and safety legislation!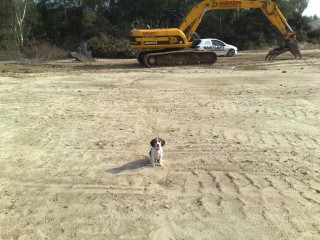 Rob's mount at Bartlett Contractors is a JCB JS220LC "Groundworker", which he uses on jobs all over the South West and further afield as and when jobs arise. Rob joked that the JCB and his Beagle are the two "Jakes" in his life; Jake being a nickname that has been affectionately used by many in the industry to describe the JCB product over the years.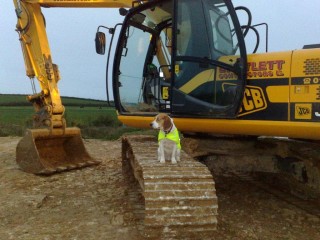 Jake the Beagle has become something of a star with the workforce on site and can often be seen directing operations from the back of his van as seen in this shot!
When Jake is not running the show from the back of his van, he takes up residence in Rob's 3ft digging bucket which doubles up as a temporary kennel!
In a rather spooky coincidence I too have a Beagle, whom as a young puppy used to keep me company when I was running my own machines, working away from home, he was great fun to have around and kept me sane on the long lonely nights when I was living in a caravan on site. This was my boy "Barney" in the cab of my Hitachi EX120-5 back in 1998

From my experience dogs are far better than many humans one meets, always pleased to see you, never judge you and always give you unconditional love!
Another great dog I must mention here was owned by Pat King from James King Earthmoving in Northampton.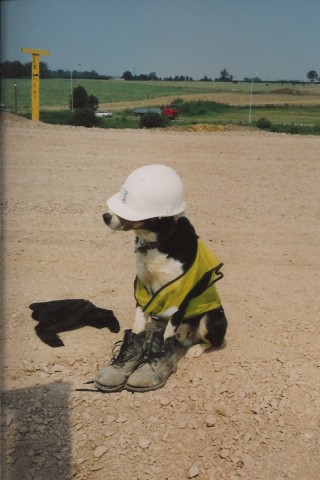 Jerry was his name and he used to ride in the old Aveling Barford motor grader that they used to run which was even named Jerry in his honour. I remember Pat telling me one day "That dog knows more about grading stone than half the blokes on here Nick!" Great stuff!
Sadly, these days the rules on most sites don't allow us to have dogs on site anymore. Strange really as my dog has more common sense then many of the banksmen who work with me!
Thanks must go to Rob Williams from Bartlett Contractors Ltd for his photos and we look forward to some job reports from him here on the Digger Blog in the not too distant future.
Thanks also go out to Pat King of James King Earthmoving for his photo of "Jerry"