There has been a long history of construction machines making an appearance in James Bond movies. And by the look of things in this short video clip, Skyfall, the latest offering from the Bond franchise, is set to carry on the tradition. Star of the clip is the Cat 320D excavator. The machine itself does look rather strange, as the cab does not look like a conventional Cat model, and is also located on the wrong side of the superstructure for some reason?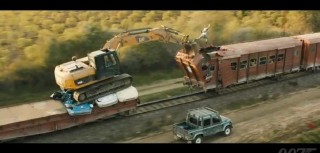 No definitive details on this, but it looks like there is a pursuit going on and the baddies have disconnected the trailer with the excavator on it, from the main part of the train. In true innovative Bond style, he uses the excavator to rip open the back end of the carriage, and anchor it in place whilst he climbs over the boom and into the train. I hope he had his CPCS card with him just in case the health & safety police were doing the rounds!

Skyfall is set to appear in cinemas from November, and I suspect there might be a few more machines making an appearance in the movie. One for digger fans to lookout for!