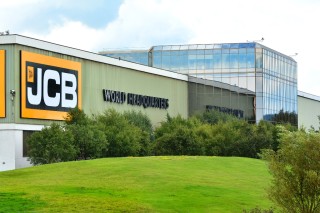 Joe Bamford (Mr JCB) was quick to seek export markets. He is pictured below in 1953 (third from left) with employee Doug Hollingworth (seated) on a sales trip to France with some early customers. These were the days when you had to wear a lab coat to sell plant, apparently.
As early as 1961 the company set up JCB Aviation to bring in customers from around Europe to visit the factory on day trips. The company's first plane was a twin-engine de Havilland Dove.
In 1964 JCB exported its first machine to the USA – a JCB 4C backhoe loader.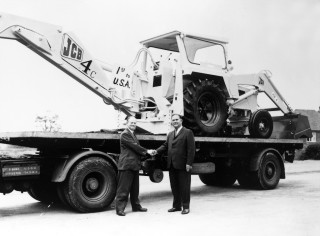 In 1969 JCB produced a record 4,500 machines and by now was exporting more than half of them. The following year JCB opened up for business in the USA, setting up a base in Whitemarsh, Baltimore (below).
In 1972 JCB France opened and after in October 1975, on selling more than 100 machines in a single month, there was a splendid excuse for a cheesy pose.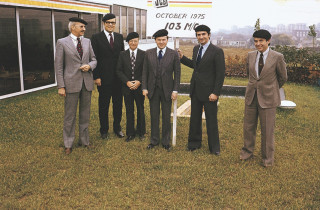 A much bigger step came in 1979 with the decision to start manufacturing in India. Today JCB has factories in New Delhi, Pune and Jaipur and India is now JCB's biggest market outside the UK.
In 2000 the first machines began rolling off the production line at JCB's new North American headquarters in Savannah, Georgia.
In 2005 JCB opened its factory in Pudong, China.

That same year came the biggest ever order in its history, a $140 million deal to supply the US Army with a high-speed backhoe loader for military engineering tasks, a machine known as the High Mobility Engineer Excavator (HMEE).
In 2009 JCB made a £40 million investment in its facility in Ballabgarh, India to create the world's biggest backhoe loader factory (below).
Global manufacturing extended to Brazil in 2012 and a £60 million order for more than 1,000 backhoes was taken from the Brazilian government.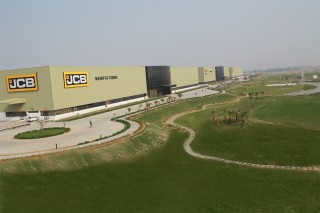 In 2014, production started at JCB's new £62 million Jaipur factory complex in India (above) and plans were announced for a £20 million new HQ for JCB Germany in Cologne.
Over the years JCB has cemented its international presence with acts of corporate charity, donating machinery after natural disasters such as earthquakes and tsunamis.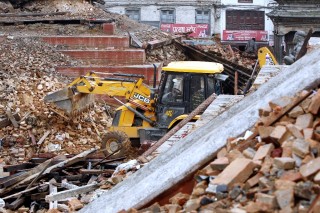 Despite its ever-growing global presence, JCB remains as stoutly and proudly British as warm beer and fish & chips, as shall be seen in the next post in this series.