JCB says that having pioneered the compact backhoe loader with the 2CX, it is now "taking the concept to a new level, to meet the demands of the construction sites of tomorrow".
Key features include its compact dimensions of 1.9-metres wide and 2.74m high. (The 2CX is 1.85m wide and 2.72m high.) Top speed is 40km/h with hydrostatic transmission, which is 17% faster than the 2CX. The hydraulics deliver 19% more flow, at 100 litres/min.
The 3CX Compact comes with a choice of 2CX and skid steer hitches plus an excavator quick-hitch.
JCB says that it is "far more than simply a digging and loading machine".
It says. "Backhoe loader, mini excavator and skid steer loader attachment compatibility allows the 3CX Compact to work with the widest range of attachments and hand held tools, for maximum versatility and utilisation.
The standard servo excavator levers are familiar to operators of both mini excavators and backhoe loaders. Up to 75 litres/min of bi-directional auxiliary flow allows a wide range of hydraulic attachments to be used, including augers, increasing the versatility and productivity of the backhoe. Two dipper lengths at the rear are available, in fixed or extending format.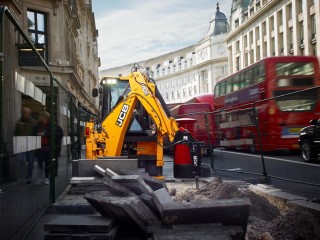 At the front end there is a range of shovels that can be supplied with optional toe plates for road stripping applications. A load over height of 2.98m and max forward reach at full height of 1.11 metres allows easy loading of road going trucks and other high-sided haulage solutions, JCB says. Hydraulic quickhitch is an optional extra.
Pallet forks and other specialist attachments, such as sweeper collectors, are also available.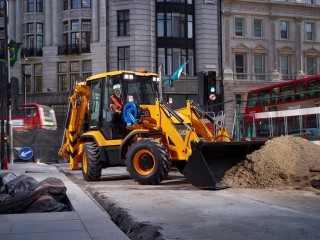 The 3CX Compact is powered by a Stage IIIB Kohler engine, delivering 74hp (55kW). No diesel particulate filter (DPF) or exhaust after-treatment or exhaust fluid are required to meet current regulations.
The engine drives through a three-speed hydrostatic transmission to all four wheels. The transmission also has a creep mode, allowing the operator to run at high engine revs to power high-flow attachments such as road planers, at maximum travel speeds of just 3.5km/h.
The hydrostatic transmission eliminates the need for a gearshift lever or a clutch, keeping it simple to use. Heavy-duty JCB axles with an optional limited slip differential reduce wheel slip in tough conditions. An intelligent braking system disengages the transmission to increase efficiency and reduce component wear.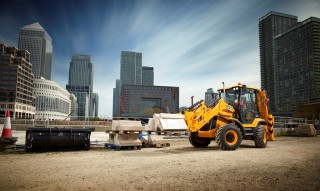 Riding on equal-sized wheels, the 3CX Compact has selectable two- and four-wheel steering. The turning circle is 5.8 metres braked to the outside of the wheels, or 6.7 metres unbraked.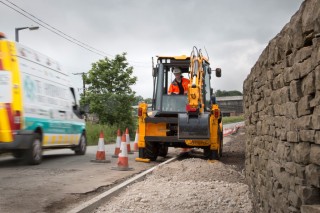 A laminated front screen, toughened glass and rear screen protection improves safety while the flat glazing keeps replacement cheap and simple. There are two front and four rear halogen worklights as standard, while optional LED lights with boom-mounted lights are available for all-round night operation visibility.
As with most JCB machines, the 3CX Compact is supplied as standard with the LiveLink telematic tracking and monitoring system.