The JCB mud run is now in its second year. It attracted some 1,000 entrants this time, which is double last year's field. They lined up for the five-mile endurance course which gave them the chance to pit their wits against slippery obstacles and gunge-filled challenges.
Their muddy efforts, which were cheered on by a thousand more spectators, helped to raise £40,276 for the NSPCC in Staffordshire.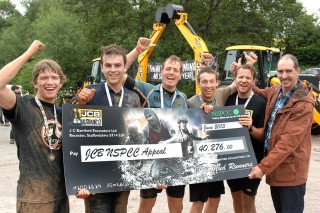 Above: George Bamford (2nd from right) presents a cheque to John Harrison (right) of the NSPCC
The Second JCB Mud run took place on Saturday 29 June 2013 near the company's World Headquarters in Rocester. The fiendish course incorporated a 100ft-long underground mud tunnel, cargo nets, rope swings, monkey bars… and, of course, plenty of mud.
Among those completing the course was George Bamford, son of chairman Sir Anthony. George said: "It was great to see such a collaborative effort on behalf of JCB, not only the competitors but the dozens of volunteers who have given up their time to make this a success. To cap it all off we have raised a fantastic total for the NSPCC. JCB just keeps coming back and raising big totals and I can't thank everyone enough for their generosity."
Competitors came from all over the UK to test their mettle – as well as further afield. They included a team of eight pilots and crew from Air France, based at Charles De Gaulle Airport, Paris. They were led by Captain Herve Michel and took part wearing their flight uniforms.
Captain Michel said: "The JCB Mud Run is 'magnifique' that is why we have travelled all this way to take part. What a brilliant event and what a great turn out – we never expected this."
Also running were newlyweds Katie and Paul Kerr from Stenson, south Derbyshire. Solicitor Katie, 28, and Paul, 30, who works for JCB Landpower, Cheadle, only got married a week before the race but donned their wedding attire again for the course. They were also joined by best man Alistair Gray, 29, of Hertfordshire, who was equally well dressed for the occasion.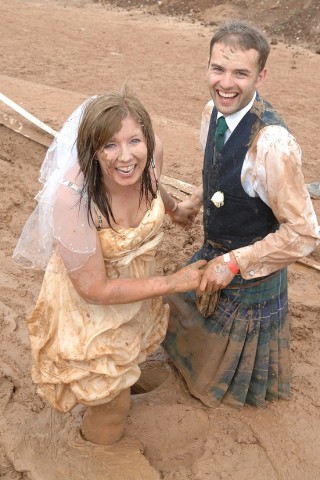 Katie said: "A week ago I got married, then we had three days in Lake Garda, Italy and now this! It is a great way to start off our married life because it demonstrates just how much we can work as a team to overcome a challenge."
Blue was the colour as James Marney and his mates from the Warwickshire Fire Service descended dressed as Smurfs. The event formed part of James' stag party – and he couldn't think of a better way to celebrate.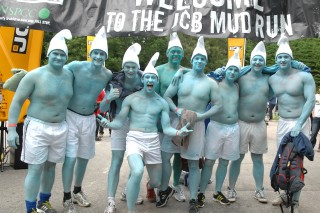 The 31-year-old from Rugby, said: "This is as much fun as it gets. We came here dressed as blue smurfs and we are completely brown and muddy now we have finished. We are off to Nottingham later to carry on the celebrations but I think we are going to need to be hosed down a bit first."
Nick Hayllor, 27, formerly of Queensland, Australia, and now living in Cheadle, Staffs, was part of a team of four work colleagues dressed in jockey colours who enjoyed the day. Nick, who works for JCB Landpower, said: "It was crazy, it was fun, it was hard going at times and I may have a swollen ankle tomorrow morning, but taking part has given me a great adrenalin rush. Our team took part last year dressed in our business suits but the dry cleaning bill was too much. Everyone refers to us at work as the CAD Jockeys, so here we are!"
I am still tempted to do it myself one of these days, but on this year's evidence I am not sure that I have anything appropriate to wear in my wardrobe.