The 540-170 model is working on this brand new Barratt Homes development of 200 dwellings in the delightfully picturesque town of Looe, in Cornwall, a destination which is extremely popular with the tourists during the summer months. With this phase of the job expected to last somewhere in the region of 2 years it could be a nice long hire for Fork Rents JCB machine.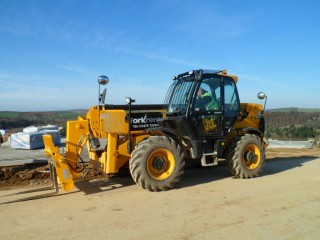 The machine is fitted with the side mounted JCB engine and encompasses well proven and reliable JCB axles and transmission. There are two power source options available for this model, comprising of 74.2kw (100hp) or 93kw (125hp) JCB engines.
The JCB 540-170 is the first JCB telehandler to feature a four stage telescopic boom. This fitment enables the machine to offer an impressive forward reach of 12.5 metres and a maximum lift height of 16.7 metres. Lift capacity is rated at 4.0 tonnes with lift capacity at full reach rated at 0.6 tonnes
This machine has a whole host of user friendly innovations, including chassis levelling as standard and hydraulically operated side shift forks, which eliminates the need for the operator to leave the cab to shift the forks manually.
The addition of heavy duty stabilisers give the machine a firm footing when placing loads at height and distance and the chassis levelling is also useful when crossing uneven ground with loose loads and other bulky items that are so often encountered on building sites.

Barratt Homes forklift operator is more than pleased with his latest mount, commenting on the high level of spec in the cab which includes, full air conditioning, comfortable fully adjustable suspension seat and ergonomically positioned controls as well as the excellent all round vision.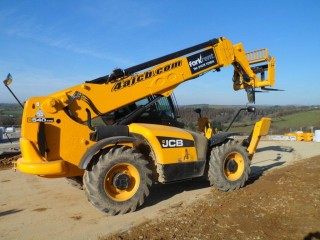 The machine is also put to good use during quieter times by coupling up to a hydraulically operated road sweeper, which is extremely useful for keeping the mud off the road, in what is an area of outstanding natural beauty.
Fork Rent is one of the UK's largest privately owned plant hire companies, and the latest deal to purchase a further 600 machines, comes hot on the heels of its purchase of over 1,000 JCB telehandlers over the past two years – bringing the Ipswich based firm's tally of JCB machines purchases past the 4,000 milestone figure.
Pictured above Fork Rent owners Guy and Trudi Nicholls and (right) Elaine Miller, the company's Operations Director with examples from the firms impressive JCB fleet.