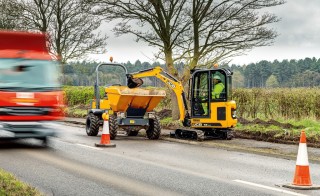 With operating weights of 1.6 tonnes to 1.8 tonnes, the line-up includes the conventional tailswing 16C-1 (pictured above), aimed at rental companies, and JCB's first zero tailswing 1.7-tonne model, the all-new 18Z-1 (below). The 18Z-1 is designed to meet the changing requirements of mini excavator users in all industry sectors, JCB says.
Completing the line-up is the conventional tailswing 19C-1, for contractors wanting a premium compact excavator.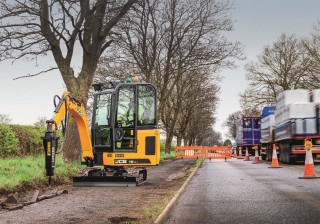 The three machines have been engineered from the ground up to deliver reduced total cost of ownership and improved ease of use, JCB says. Features of the new range include:
100% steel bodywork
Improved design to protect hydraulic rams and hoses
10 integral tie-down points to make transportation easier
500-hour greasing intervals
Swing-out counterweight for easier access to service points
Separate service access door for daily checks.
A common undercarriage is used on all three models, with machined faces for improved fit and extended component life. Sloping track legs reduce material retention, making it easier to clean the machine between hire periods. The 16C-1 is available in both fixed and retracting undercarriages, with the retractable track frame offering widths of 980-1,330mm. A revised idler design delivers improved ride quality and reduces track stalling in loose material.
Short-pitch rubber tracks come as standard, with a steel track option available on all three models. A redesigned dozer blade comes with easy to install dozer wings. It offers increased lift height and the option of standard or longer-reach dozer arms. The long reach gives the machine additional stability and the ability to dig right up to the dozer, for improved site clearance.
There are two upperstructure designs, one for the two conventional tailswing models and a second for the all-new ZTS machine. In both cases the structure has an improved layout for easier component access. The 18Z-1 is expected to prove particularly popular in southern European markets, where customer demand continues to drive increasingly compact designs.

Sturdy tie-down points have been built into the frames of all three machines, making regular transportation easier for rental businesses and ensuring that chains and slings are not pulled across rubber tracks, causing unnecessary damage.
The machines use a next generation four-plate boom and dipper design, with three dipper arm lengths of 950mm, 1100mm and 1344mm available. An 1800mm main boom with top mounted ram provides maximum protection for the hydraulic cylinder. All three minis boast competitor attachment compatibility and a hydraulic quick hitch option is available on the high-specification 19C-1. All boom and dipper pins have 500-hour greasing intervals for reduced downtime and extended pin and bush life, which means that greasing only needs to be completed as part of a regular machine service.
The 16C-1, 18Z-1 and 19C-1 (show again, in that order, below) are powered by a 12.2kW (16.3hp) Perkins diesel engine that is equipped to meet upcoming emissions regulations. The engine is mounted across the rear of the machines for optimum weight distribution. Ease of serviceability was a prime design consideration and the machines have a rear counterweight that swings away to provide easy access to the engine bay and battery, with a separate access door for daily checks.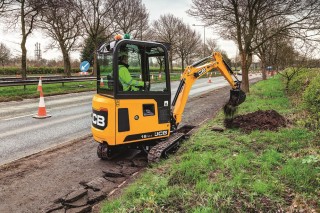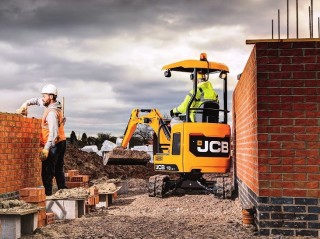 All-steel body panels provide maximum protection for both rental companies and for contractors and can be easily repaired if required. The right-hand side panel can be opened to provide access to the hydraulic and fuel tanks, and the cooling package, reducing maintenance time and boosting profitability.
Options include seatbelt isolation, high visibility seatbelts and a green beacon. The premium 19C-1 model can also be supplied with 'follow-me-home' working lights that allow the operator to leave the machine and reach a safe distance from the excavator before dimming.
JCB's ROPS-compliant cab and canopy structures provide up to 24% more interior space, with improved leg and shoulder room boosting comfort for operators. Redesigned track levers now come with T-bar controls, in line with larger next generation models, while additional track pedals are optional. The premium 19C-1 model incorporates the swing control and auxiliaries into the right-hand joystick, further improving space on the cab floor. A low-flow circuit with electrically proportional controlled auxiliaries will also be available as standard on the 19C-1 for optimum attachment control.
The 19C-1 also has an integral keypad immobiliser with PIN management as standard and an optional push-button start.