K & D Gilbert Ltd was founded 12 years ago when the employer that Kevin and Darren were working for told them that work had gone quiet and suggested that they have a go on their own! This they did, with the first machine being a Poclain 61, which served them well.
Since that day the company has never looked back and their customer base includes many premier developers and civil engineering companies who are involved in major contracts throughout the South West.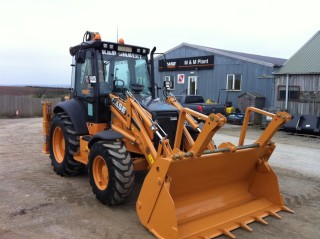 The company's current machinery fleet consists of 13 machines, which are all from the Case stable, with excavators ranging from 1.5 ton to 21 ton.
The new T series of backhoe loaders was launched to a keen European market last month, following a vigorous advertising campaign entitled "The King is Back", a reference to the Construction King models that the company produced from the late 1950's onwards.
The machine supplied to K & D Gilbert Ltd has been fully loaded from a specification point of view and includes the Tier 3 compliant 110hp engine, powershift transmission, 20" front wheels, pilot controls, power brakes, variable displacement hydraulic pump which is said to reduce fuel consumption by 10%, hammer circuit, low flow circuit, ride control and last but not least air conditioning!
These new machines also feature a new and innovative curved main boom design, which gives the user many benefits, including lower transport height, improved visibility, increased breakout force and easier loading of trucks over the side.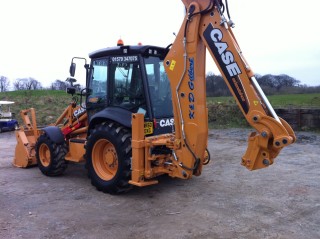 The dipper arm is also a newer version of Case's famous Extendahoe design, which offers more protection to the sliding mechanism by pushing the outer sleeve out when extending. At full extension the 590ST has a ground reach of 6,655mm and a dig depth of 5,887mm.

Kevin and Darren purchased the 590ST because past history has given them faith in the brand and now that they have taken delivery they are more than happy with the machines build quality and have been really impressed with the machines performance.
I myself was working alongside one of K & D Gilberts machines a couple of years ago on a site in St Austell, when I was sub-contracting for another company, this excellent and well looked after Case CX180B was being operated by Ian, on the site of the Whitehouse Hotel and Spa complex.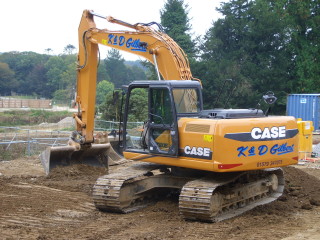 Another member of the Gilbert family, Roy Gilbert, is a regular at many of the country shows in the South West, where he wows the crowds with a gravity defying stunt, during which he puts a Case backhoe loader on its side and cracks an egg with the stabilizer leg. I reported on this on the old blog but for those that haven't seen it here is the amazing photo once more!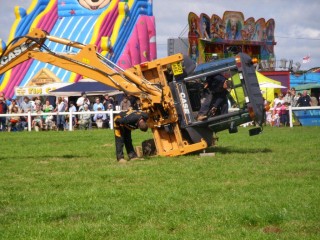 It's all a great credit to this family run business, the quality of the Case product and M & M Plant Ltd which support them down here.
Kevin & Darren were keen to heap praise on the dealership, "We have used M & M Plant since they were set up by Mark and Mike. They are very professional, the products they supply us with are always top quality, the backup service is second to none. They are always willing to help and are always at the end of the phone if we need them. We find the guys are very approachable from the selling to the servicing".
The Digger blog wishes K & D Gilbert Ltd, good luck with the new machine and hope to pay a visit to site in the not too distant future to report on the machine in action.
Thanks must also go to M & M Plant's salesman, Luke Harris, for his assistance with this story.