"To be honest we tended to look elsewhere for our large prime mover requirements, but with our existing 65 tonne excavator approaching 15000 hours and some significant track repair work required, we took an objective look at the market," says Managing Director Alan Sparkes. "We evaluated five different models and it was a difficult call to make with nothing to compare in terms of the deal on the table and machine availability so it all came down to the preference of our workshop personnel," he continues. "With the long standing relationship with Volvo's product support people, their outstanding back up and co-operation it was an easy decision for Steve Marsh, our workshop manager and his team."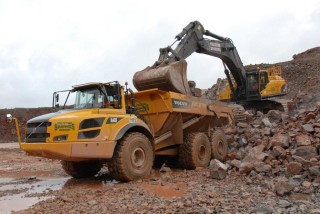 The new EC700C takes over as prime mover joining a Volvo EC480D and four Volvo forty tonne articulated haulers purchased late in 2011on a long standing contract for Aggregate Industries at Torr Quarry near Shepton Mallet. Both machines are loading the trucks with blasted limestone which is then hauled a short distance to the giant O&K mobile crusher. "The areas for blasting and processing over the current phase of operations called for approximately 1.5M tonnes of rock to be hauled to the crusher which is at its maximum distance from the processing plant," says George Stanley - Keslton Sparkes' foreman in charge of the primary extraction team. "We are shifting upwards of 15000 tonnes of material a day on a 7 to 5.30pm shift between the two excavators and four trucks."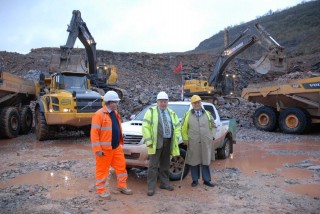 At the heart of the EC700C a 16 litre Stage III V-ACT engine developing 430 nett hp operates in conjunction with an advanced mode control system ensuring the maximum possible hydraulic horsepower available is delivered at a constant engine speed under varying load conditions. A maximum torque of 2250Nm is achieved at just 1350r/min and this in conjunction with the machine's advanced hydraulic system ensures maximum fuel efficiency is achieved through every work cycle.

Equipped in mass excavation configuration as delivered to Kelston Sparkes Group, the EC700C offers a maximum reach of 11.2 metres, a digging depth of 7.25 metres and an impressive lifting capacity across carriage at full reach of 12.4 tonnes. The machine has been fitted with a bespoke 4.4m³ rock bucket supplied by MST Ltd. The specification of the new Volvo excavator further been enhanced with the addition of a Lincoln automatic greasing system and the 'CareTrack Advanced' telemetric monitoring system which is standard on all Volvo GPE products, provides operational data remotely via the internet, including fuel consumption and idle time, all helping to reduce cost of ownership and maximise utilisation. Complying with quarry regulations the 70 tonne machine has been equipped with full safety features including safety rails around the machine superstructure, red and white chevrons on the counterweight and full cab windscreen guard. And long standing machine operator Clive Bodeley with twenty five years under his belt working for Kelston Sparkes is suitably impressed with his new charge commenting on the quietness of the machine, the smoothness of controls and the overall balance of the machine. "When you're working in the machine all day long you need to feel comfortable and refreshed and so far I've been delighted with the Volvo 70 tonner," he says.
Supplying equipment to feed the primary crusher at Torr is only one of several contracts Kelston Sparkes is currently engaged in at Torr quarry, which includes the relocation of the quarry's waste tip and crushing specific pockets of the quarry for Type I material which has seen a significant increase in demand. "We've been very fortunate to secure mid to long term contracts within the extractive industry in the south west of the country and in particular here at Torr quarry," says Alan Sparkes. "As a major contractor to several established companies we are committed to work as a team with our clients in delivering a quality service with experienced personnel and first class products. In turn we rely on known and trusted suppliers such as Volvo to help support our activities and this has played a significant role in our decision to purchase the EC700C."
The Kelston Sparkes Group is based at Stanton Drew near Bristol and provides a first class contracting service including earthmoving, extraction, crushing and screening as well as general plant hire.