While working on sites around the country, I'm sure many of us who operate for a living, will be only too aware of the attraction heavy plant & machinery holds for young kids. On many occasions I have witnessed mothers literally having to pull their mesmerized children away from the fence, often screaming in protest at having to leave! Matthew's sons, Matthew junior aged 3 and a half, and Mitchell aged 2 and a half, are no different, being described by Matt as "digger crazy".
Like so many of us have done in the past, these two smashing lads are growing up in a world surrounded by diggers and plant and machinery men, with not only their father being a machine operator, but also their uncle and grandad, who operate machines too. Not surprising then, that these two lads get plenty of opportunities to get up close to a whole host of different machines under controlled supervision.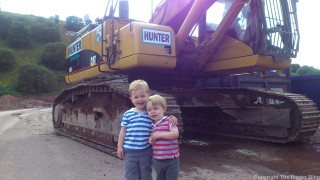 Interestingly, Matthew senior, has a good friend who owns an old Smalley 5 mini excavator. These machines are becoming rather rare to find these days, but were, in their day, the first real mini diggers. Built in Britain by Richard Smalley Engineering, these machines were revolutionary at the time, and proved to be popular with small builders and for grave digging. The machines had no drive to the wheels, and would pull themselves around on site by using the dipper arm. This Lister diesel engined model probably dates from the late 1970's.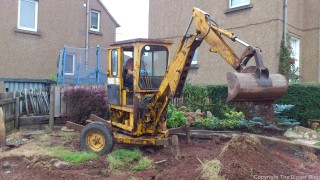 Needless to say, Matthew's young boys relish the chance to get behind the controls of the Smalley 5. And if they could master one of these, then they could operate anything in the future!
A visit to see Dad on site is always a special treat for the boys, and of course it would be rude not to try out the seat for size. Here we see young Mitchell, getting to grips with the levers. Machine in shutdown of course.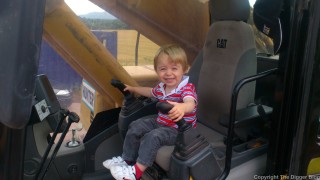 Matthew Thackery himself works for Scottish firm Hunter Demolition, where he operates the company's Caterpillar 345CL which is equipped with a 27 metre high reach demolition arm. The machine also has a short boom and dipper set up for more standard digging operations. Matthew commented on his current mount, "It's a really good machine to operate, being extremely responsive on the levers. It copes really well with the high reach arm too, as the machine has been modified by widening of the undercarrige and additional ballast weight which makes it spot on".

Matthew used to operate the big Hitachi EX1200 for DSM Demolition which featured an impressive 62 metre high reach set up. However Matthew seems to prefer the smaller Cat machine, as he says he is always kept busy with it, whereas there wasn't always enough work in the UK for the big Hitachi model. Matthew has big ambitions to one day work for himself, possibly with his two boys working alongside him on the levers.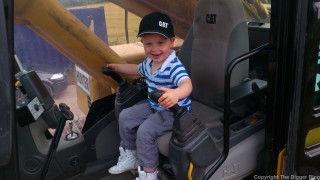 For now however, Matthew says he is really happy to be working for Hunter Demolition. "I have a great boss in George Beattie, he's an absolute legend in the Scottish demolition community"
The Digger Blog wishes Matthew, and his two young sons all the very best for the future.