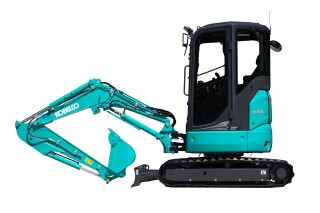 The Kobelco SK26SR-7 (pictured above) and SK28SR-7 both have short tail swing designs and weigh in at between 2.5 and 3 tonnes.
The new SK26SR-7 also has a transport weight of 2,580kg in cab version and 2,420kg with just a canopy, making it easily transportable on a trailer with a maximum capacity of 3,500kg.
The SK28SR-7 has had its engine output increased from 18kW to 19kW and given an improved hydraulic system for enhanced operability. For increased versatility, the Quick Hitch piping has also been extended by 200mm for easy connection to a range of attachments. The removable travel levers improve accessibility to the main control valve, which helps to facilitate maintenance and servicing of the hydraulics, the manufacturer says.
An angle dozer is available as an option on the SK28SR-7, providing 25 degrees of left and right-angle movement for clearing, grading and backfilling. The floating dozer option enables cleaning of the ground surface without having to adjust the dozer height.
Inside the cabin, both machines have a mechanical suspension and reclining seat including headrest, wider wrist rests, DAB+ radio with FM/AM & AUX & USB, Bluetooth and hands-free telephone function, smartphone and cup holders. The 3.5-inch multi-colour display provides all the usual machine information, including fuel and water temperature, service intervals and adjustments to the hydraulic oil flow to the attachments.

They also have air conditioning as standard.
In addition, they come with Kobelco's integrated noise and dust reduction cooling system – iNDr – to provide a more comfortable working environment for the operator.
Kobelco product marketing manager Wesley Elverding said: "Our mini excavator line-up is extensive, but we recognised that the 2.5-tonne segment could be further enhanced to better meet customer requirements. As part of our commitment to continuous improvement, the SK26SR-7 and SK28SR-7 build on Kobelco's reputation for reliability and performance and incorporate several new features to boost their capabilities and really set them apart from the competition".