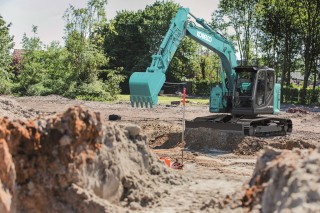 The SK140SRLC-7 is part of Kobelco's new Stage V compliant generation of excavators. The 2,999cc Isuzu turbo-charged diesel engine delivers a 10% increase in engine output compared to the previous SK140SRLC-5 model. With a new hydraulic control system, digging cycle time has also been reduced by 10%, compared with the previous model, Kobelco says.
Inside the cabin, the 10-inch colour monitor is said to be the largest in-cab visual information screen in the excavator industry. This displays not just machine status information and function menus but also the views from three cameras that are supplied as standard. The monitor functions are controlled by an LED-backlit multifunction jog-type dial.
Other features include an LED door lamp that switches on when the cabin door is opened or the ignition switched off, and the FOPS Level II roof guard is equipped with a lockable swing-open section so the external roof glass can be easily cleaned.

Quick Hitch piping is fitted as standard on the SK140SRLC-7, promoting its capability as a multi-purpose machine. The operator can select one of seven pre-set hydraulic attachment modes (e.g. bucket, nibbler, tilt rotator, breaker etc.) via the 10-inch display screen and jog-dial. In addition to the pre-set modes, four optional modes can be configured to operation requirements.
The SK140SRLC-7 is also available to order ex-factory with build options of dozer attachment, dual-boom, side drain, and additional counterbalance weights (580 and 1,000kg).
"Kobelco is committed to designing and manufacturing the most capable and efficient excavators and the introduction of SK140SRLC-7 is proof indeed of this," says Peter Stuijt, product manager at Kobelco Construction Machinery Europe.
"The latest technology that features within the SK140SRLC-7 provides the basis for a multi-purpose excavator with reduced operating costs and exceptional working performance. The fact that this machine is already Stage V-compliant also underlines Kobelco's dedication to reducing the construction industry's carbon footprint – an issue that nobody can afford to ignore."