The new Kobelco SK34SR-7 and SK39SR-7 replace the previous SK30SR-6E and SK35SR-6E and offer increased engine performance, improved operability, an updated cabin interior and easier maintenance, says the Japanese manufacturer.
Larger bucket cylinders (from 65 to 70mm) result in a 15% increase in bucket digging force (from 27.8 to 32kN). In addition, the boom cylinder bore has been increased from 80mm to 85mm in the SK39SR-7 for improved lifting capacity, while increased travel performance and an upgraded hydraulic system deliver faster combined operation.
Operator comfort was in the minds of the designers.. "The mechanical suspension and reclining seat coupled with the powerful air conditioning have also been designed to make the operator feel like they are controlling a much larger machine," the marketing team says.
The there are the wrist rests, which have been made wider. And DAB+ radio with FM/AM and Aux, USB, Bluetooth and hands-free telephone functionality come as standard.

Hydraulic Flow Adjustment (HFA) also comes as standard in all proportional hand control models, and the hydraulic oil-flow to the attachments can be adjusted via the 3.5-inch colour display.
The SK34SR-7 and SK39SR-7 are equipped with two LED work lights and additional working lights can be installed to the back of the cabin, if required. To reduce downtime for maintenance, the travel levers are now removable, making the main control valve easier to get at.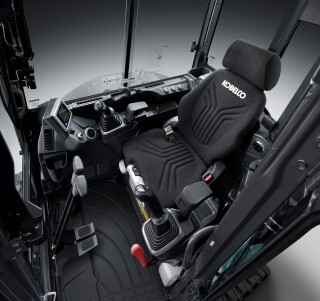 Kobelco product manager Wesley Elverding said: "We're always listening to our customers to understand what they need from their mini excavators and how they perform on jobsites. As well as offering upgraded performance, increased bucket digging force and improved lifting capabilities, the introduction of the new SK34SR-7 and SK39SR-7 demonstrates how we are developing our mini excavator technology and machine concepts to better suit the needs of our operators as well as more demanding jobsite conditions."