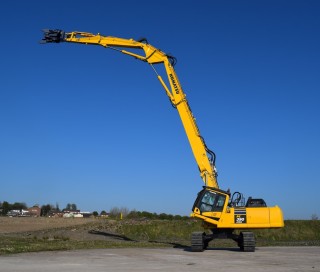 Komatsu says that it brings "best in class" working power to the 50-tonne machine sector. It can be configured in six different working arrangements, can carry a 2.5-tonne demolition tool up to a height of 26 metres, and can also work with a 4‐tonne demolition tool up to 15 metres. Komatsu says that it removes the need for multiple machines in the demolition process.
It was designed and developed, using customer feedback, by Komatsu UK in Birtley. As the standard PC390HRD‐11 is put together there, the whole machine works together as one complete system.
The working range indication system on the PC390HRD‐11 allows the operator to use the machine to its maximum effect without compromising safety, right through 360 degrees. It can also display the view from the optional arm-end camera system.
The standard undercarriage fitted to the new excavator is a mechanically variable style, with a much larger footprint than the old PC350LC‐8 HRD. This gives the machine more stability.
The new hydraulic undercarriage option makes it quicker and easier to set up the machine on site and to reduce the transport width to less than three metres.
The official launch to customers was back in May. It has since picked up a National Federation of Demolition Contractors (NFDC) innovation award. It was also shortlisted for the innovation awards of the Syndicat National des Entreprises de Démolition (SNED) in France.

Stuart Blackham, design manager for demolition products at Komatsu UK, says: "All of the people who have worked on the project are delighted to have been recognised for their hard work. We are really pleased that a machine that was designed, developed and manufactured here at Komatsu UK has been received so well, and will be used across Europe."
He added: "There is a desire at Komatsu to continually drive forward improvements and innovation, no matter how well our machines already perform. This new high reach machine is an example of how customer feedback, combined with our own invention and innovation, can help create a game‐changing machine."
Product manager Simon Saunders adds: "A lot of hard work went into the PC390HRD‐11, and it is great to see it being recognised. Since the beginning, Komatsu has sought to build leading machines in their individual fields, and this is clearly continuing year on year. Komatsu is making its mark with this fantastic new machine and the Komatsu UK team is at the heart of that."