Without doubt the main attraction on the stand was the manufacturer's ground breaking HB215LC-1 hybrid excavator, which is said to be the only "green" excavator of its kind actually at work on jobsites around the world. This new 21 tonne class machine replaces the outgoing PC200-8 Hybrid that was first launched at Bauma 2010. The machine has an operating weight of 21.220kg and can carry buckets ranging from 0.8m3 to 1.05m3.
There are said to be 900 Komatsu hybrid machines currently out in the field, owned by customers in Japan, China and the USA. Komatsu also has plans to expand its hybrid technologies to larger excavator models, and other items of equipment from its extensive range look set to receive hybrid makeovers.
Amongst the other new products on show was the HM400-3 articulated dumptruck, which was impressively displayed with another new model from the Dash-10 excavator range the PC490LC-10.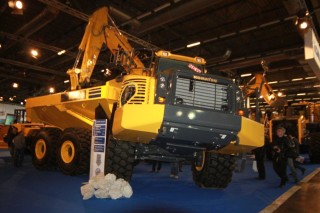 The HM400-3 has a gross vehicle weight of 73,740kg with its payload of 40 tonnes. The truck is powered by a Komatsu SAA6D140 engine, which is EU stage IIIA and EPA Tier 4 interim emission certified. This engine produces a flywheel horsepower of 353kw (473 hp), this power unit combined with the new unique and redesigned traction control system that is fitted, enables the truck to attain a maximum ground speed of 55.9 km/h.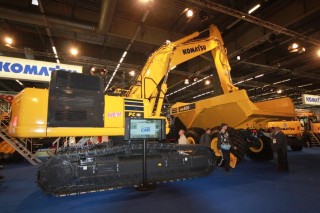 The all new Komatsu PC490LC-10 is the direct replacement for the outgoing PC450LC-8, weighing in at 48, 987kg it represents a 4% increase in weight when compared to the old model. Once again powered by Komatsu's own 268kw (359hp) SAA6D125 engine, which is EU stage IIIB/EPA Tier 4 interim emission certified. As with most manufacturers today major effort has been put into making environmentally friendly engines that not only increase power, but lower fuel consumption too.
All major components on the new PC490LC-10 including the aforementioned engine, hydraulic pumps, motors, and valves, have been exclusively designed and produced by Komatsu. This integrated design uses a closed centre load sensing hydraulic system (CLSS) which Komatsu claims to take hydraulic efficiency to the next level with variable speed matching. This variable matching technology allows the engine speed to adjust itself based on the machine load throughout each individual working cycle. Additional enhancements made within the hydraulic system reduce "hydraulic loss" and result in better efficiency and lower fuel consumption.
These new Dash-10 machines are now being built by our friends in the North East, at the Komatsu UK facility in Birtley, Tyne & Wear, and although I couldn't make it to the recent launch event up there, it was good to see these machines in the flesh at Intermat. I hope to get up there soon for a test drive for the blog, so whilst in Paris I took the opportunity to check out the cab of a Dash-10.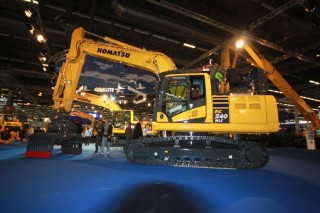 Komatsu cabs have always been a nice place to spend a shift, and it goes without saying this latest one is even better. The multi adjustable seat is fully air suspended and features heating which is always pleasant on those frosty winter morning start-ups. The cab also features the usual air-conditioning unit that we have all come to expect, and there are now two 12 volt ports fitted, for running electrical items and charging mobile phones. In addition an auxiliary input has been added to connect an MP3 player or other similar device.
A new high resolution 7" LCD monitor features enhanced capabilities and is able to display information in 25 languages. In addition the monitor gives the operator all the vital information that he needs during day to day operation, including mode selection, which includes, power mode, economy mode, heavy lift mode, and breaker mode.
There are also two additional modes for attachments which are, power attachment mode and economy attachment mode. These modes are specifically designed to allow a whole range of attachments to be used without compromising the machines efficiency.
Other items of interest on the stand were the new PC118MR-8 a compact radius machine with an operating weight of 11,800kg, and its wheeled counterpart the PW118MR-8 which tips the scales at 12,305kg. These models have been designed by the team at the Komatsu European Technical centre in Hannover, and are a result of a joint team effort by Japanese and European researchers who integrated the most advanced technology from Japan into machines that match the specific requirements of the European market.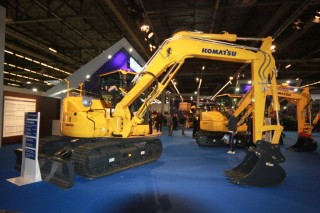 Built in Este, Italy by Komatsu Utility Europe, these compact machines are specifically designed for work where space is tight, for instance on single lane closure road jobs and urban construction sites.

Also new from the Komatsu Utility mini range on stand, was the PC30MR mini excavator, seen here fitted with an Engcon EC02B tiltrotator.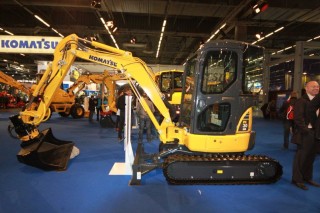 The big kit is always a massive draw for the crowds at these events, and on the Komatsu stand the new PC700-8 model was the biggest crowd pleaser. The 70 ton class machine was displayed loading a Komatsu HD605 rigid dumptruck.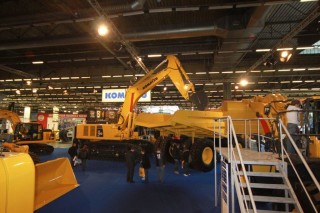 The Digger Blog looks forward to getting hands on with more Komatsu products in the coming year..
.