Details are sketchy but from what I can understand Wilmin works as a young mechanic around Komatsu equipment in Indonesia. During the course of his work he comes across a number of machines that have become bogged, rolled over or damaged in some other way. In this first photo we see a Komatsu PC200-7 that has suffered massive structural damage to its rear end possibly as a result of a landslide. One positive sign here is that the cab structure is still intact despite some inevitable damage to the glazed areas. I know from discussions I have had with members of the UK factory team, that Komatsu take great pride in the strength of their cab structures.
In this shot we see another Komatsu PC200-7 that has clearly slipped off some timbers and into a wet and muddy quagmire. Even with the assembled collective of Komatsu excavators on standby, it must have been a difficult task to retrieve this machine from its watery grave!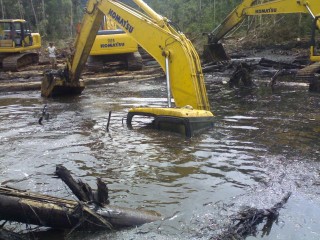 Don't forget, if you have any photos and stories to share with us, we would love to post them here on the Digger Blog. Contact me through the usual email address.