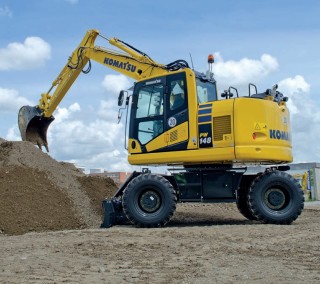 Marubeni-Komatsu will also be showing the WA480‐8 wheeled loader and the 118-tonne PC1250-11 crawler excavator.
Hillhead 2018 takes place at Hillhead Quarry in Buxton, Derbyshire, 26th-28th June.
The two wheelie excavators are designed for working on sites with limited space or in urban areas. They have the same basic machine dimensions as their predecessors but the Stage IV engines are 13% less thirsty. This required other refinements.
"A lot of work went in to the redesign of Komatsu's dash-11 wheeled excavators, with a dramatic increase in versatility for customers," says Sebastian Zienau, product manager at Komatsu Europe. "Joystick steering, an integrated system for controlling tools and the factory- installed quick couplers also boost performance and efficiency".
Operating weights of the PW148-11 (pictured above) range from 14.2 tonnes to 17.16 tonnes. Its Komatsu SAA4D107E-3 engine outputs 90 kW / 121 HP at 2100rpm, and a Komatsu diesel oxidation catalyst works together with the engine and other after-treatment components for improved efficiency and longer life.
The heavier PW180-11 (below) has operating weights from 17.6 tonnes to 20.6 tonnes, with a Komatsu SAA6D107E-3 engine producing 123 kW / 165 HP at 2000 rpm. A Komatsu diesel particulate filter captures more than 90% of diesel particulates and prevents their release in the atmosphere.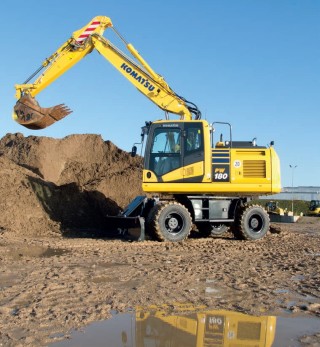 On both machines, the new integrated selective catalytic reduction (SCR) system further reduces NOx emissions by 80% using AdBlue. The engines' electronic control system manages the air-flow rate and the fuel injection, combustion parameters and after-treatment functions: along with ultra-low emissions, performance is optimised.
A new boom suspension system (ECSS) provides improved comfort when travelling over bumps, Komatsu says. The operator's seat comes with suspended joystick consoles, premium cushioning, auto weight adjustments and pneumatic lumbar support. Joystick Steering (JSS) is provided, as an option.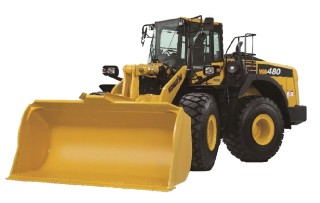 The WA480‐8 wheeled loader (above) is claimed to be 15% more fuel efficient than its predecessor, on average, again thanks to the Stage IV engine. It also has a new auto‐digging mode that along with Komatsu's redesigned digging bucket improves penetration and productivity, reducing fuel consumption.
"Thanks to Komatsu's transmission technology and upgraded torque converter, the WA480‐8 can offer reduced operating costs," says senior product manager Henrik Flohr. "A lower engine speed matching, improved tractive power and acceleration, and higher uphill speeds combine to offer a boost to productivity and lower fuel usage."
The Komatsu SAA6D125E‐7 engine on the WA480‐8 puts out 220 kW / 299 HP. Other features helping to optimise fuel consumption include the Komatsu Smart Loader Logic, the large capacity torque converter on the power train and the increasingly universal auto‐idle shutdown system.
Developments in the cab include increased internal air pressure to prevent dust and other particulates from getting in. It is also quiet, with an internal noise level of just 71 dB(A), they say. For easy and safe exit, the machine has a rear‐hinged door, angled steps and nice big handrails.
A new air suspension seat dampens vibrations and seat‐mounted electronic pilot control levers, with forward‐neutral‐reverse (F‐N‐R) switch, reduce operator fatigue.
The new PC1250-11 is an altogether different beast, with operating weights ranging from 115.9 tonnes to 118.3 tonnes. A Komatsu SAA6D170E-7 engine provides 578 kW / 775 HP @ 1800 rpm. Exempt from current EU emission regulations, but Stage V ready, it has two diesel particulate filters, with no need for an SCR system.
"Komatsu has redefined industry standards with this new excavator," claims product manager Jo Monsieur. "It not only combines great performance with excellent comfort, but also ensures that work can be performed safely, thanks to an impressive array of standard safety features".
Work modes include the familiar Power and Economy modes as well as the new Power Plus (P+) mode, which allows the operator to make full use of the increased engine power to achieve up to 8% higher production than with a PC1250-8 in P mode. The Heavy lift and Swing Priority functions are still available, as on the previous model.
A two-mode setting for the boom lets the operator choose between smooth operation for gathering material, and maximum power for more effective excavating. The shockless boom control makes operations smoother and reduces both stress on the machine and operator fatigue.