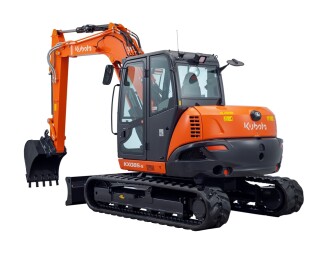 The KX085-5 (pictured above) can be fitted with a two-piece boom for expanded working range. The innovative hydraulic mechanism enables operators to run the arm, boom, bucket, and swivel simultaneously, boosting work efficiency.
The KX085-5 is designed with a shorter rear overhang, which has cast-iron protectors to protect from damage.
High-performance features include a pair of auxiliary circuits with adjustable maximum oil flow, load sensing hydraulic system for smoother operation regardless of load size, float function for easy ground finishing, and an auto-shift system designed to provide intuitive control when dozing and turning.
As well as an auto idling system, it has Engine Auto Stop as standard, automatically turning off the engine when an operator-defined idling time has passed.
The cabin has been given a wider entrance, more legroom and a double-adjustable air suspension seat. There is also a new seven-inch LCD digital display screen ensures as well as LED working lights and a rear view camera.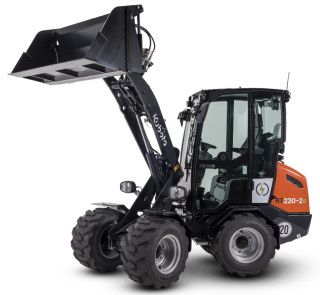 The KX085-5 has the tracking system technology that is available on all Kubota three, five and eight tonne mini-excavators giving operators access to real-time operating data that can help increase machine efficiency and security. Geofencing is also available, which allows users to designate specific areas of use, with the portal notifying operators should the machine leave that area.
Also new from Kubota are a pair of electric compact wheeled loaders.
The RT210-2e and RT220-2e (pictured right) are powered by a 48V high-torque electric motor that is fed by 260Ah lithium-ion batteries. The motor can be recharged in 90 minutes with the optional supercharger, Kubota says.
The loader arm of the RT210-2e has a reach of 2,852mm, while the RT220-2e has a shorter loader arm but an increased lift capacity of 1,140kg.
Both machines have all-wheel steering on each axle, with a pivot steer of 44 degrees.