"It's a powerful machine that features excellent breakout force and superior manoeuvrability and stability to deliver outstanding performance and productivity," says Adrian Mann, Kubota UK's product manager for its construction equipment division.
It's a 4.8-tonne machine with hydrostatic transmission. One key feature of the loader's functionality is the tilt/parallel movement of the arm, keeping loads upright when raising or lifting the arm.
Another is the differential lock system, allowing the operator to engage both front and rear wheels for traction. An AUX hold switch sets and maintains the hydraulic oil flow for attachments. Power comes from a four-cylinder 34.8kW/2400rpm water-cooled Kubota V2607-Di-E3 diesel engine.
Bucket capacity is 0.85 cubic metres. With bucket attached, maximum lifting capacity ar ground level is 37.6 kN and breakout force is 48.6 kN. With cabin, tipping load is 3.4 tonnes when driving straight ahead or just under three tonnes at full turn.
Maximum safe load on the forks is two tonnes.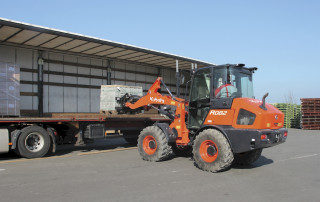 In the cab is a digital display panel, adjustable suspension seat, multi-function operating lever, tilt steering, and an adjustable right wrist rest. Sloped bonnet at the front and rounded glass corners at the back aid. Up front, a wide view and redesigned Z-bar linkage configuration allows for unobstructed views of the pallet fork tips.
For maintenance access, the engine bonnet at the rear opens wide. Items that require routine maintenance and service are within easy reach for fast and simple servicing.
For security, the loader is also fitted with Kubota's anti-theft system and only programmed keys can start the engine to start up. Any attempt to start the machine with an unprogrammed key causes the alarm to activate.