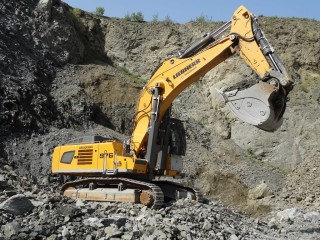 For several years, SC Grandemar used crawler excavators with shovel loaders for its rock extraction but it has recently invested in two new Liebherr R 976 crawler excavators with backhoe attachments.
With identical configurations, the two R 976 crawler excavators are working in the Bologa and Morlaca quarries, near to Cluj. Following blasting, the machines load the mined diorite and andesite rocks into the buckets of the rigid dumper trucks that feed the crusher.
With an operating weight of more than 90 tonnes, the R 976 excavators have been developed and manufactured by Liebherr-France. They are powered by a Stage IIIB 400 kW Liebherr diesel engines.
Features include hydraulically elevating cabs and Liebherr HDV backhoe bucket with a capacity of 4.7 m3, a 7.20-metre mono boom, a 2.90-metre stick.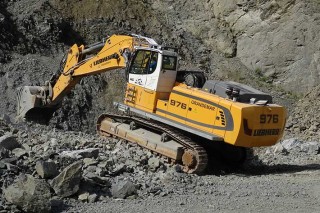 SC Grandemar had previously bought a Liebherr R 974 crawler excavator with shovel attachment in 2007. That worked out well so it went back to Liebherr again. That Liebherr-Romania has a branch nearby in Cluj-Napoca probably helped too.
The new machines with backhoe attachments, and an average fuel consumption of 40 to 45 litres per hour, are proving even more cost-effective than the previous version with shovel attachment. The R 976 working at Bologa achieves a production rate of 400 tonnes per hour, which is perfect for the volume of the crusher.
SC Grandemar specified the new excavators with multiple protective elements on the rotating mechanism and the pipes, on the piston rods of the boom and bucket and on the bottom of the stick. The machines also have floor plates for the undercarriage and the middle part of the undercarriage, for additional protection.