Liebherr-Great Britain Ltd. was first formed in 1961 (known then as Liebherr Building Machinery Limited) primarily to supply the British construction industry with tower cranes. In the early 1960's, these machines were innovative site materials handling equipment and Liebherr technology so impressed major contractors that their tower cranes became legion throughout the country.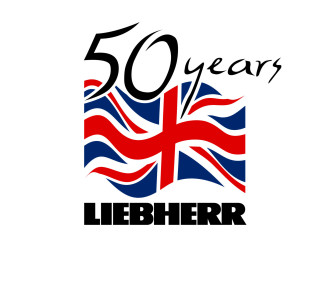 The speedy establishment of Liebherr tower cranes in the UK, swiftly followed by the introduction of excavators and concrete batching plants, soon led the Liebherr organisation to seek a suitable location for a custom-built UK headquarters. In 1965, a greenfield site was found at Welham Green near Hatfield in Hertfordshire. At that time, Liebherr employed some 100 personnel nationally, turning over in the region of £2 million. The Welham Green operation included sales, marketing, service, spares and administration departments covering the whole of the United Kingdom.
In 1968, two new regional depots were inaugurated – Bathgate in Scotland and Runcorn in north-west England (now at a facility in Ashton-in-Makerfield near Wigan). These were soon augmented by further depots in north-east England and the Midlands, giving Liebherr a strategic coverage of the whole country and an ability to carry spares holdings and provide regional service back-up for the company's growing customer base.
1968 also saw the introduction of Liebherr mobile cranes and concrete truck mixers to the British market and, like their predecessors, the technology and superior engineering of these machines soon established the ranges with discerning British customers. In 1973, Liebherr Building Machinery Limited changed its name to Liebherr-Great Britain Ltd.in order to reflect the wider range of equipment now offered to a much broader customer base. 1974 saw the introduction of the highly advanced and innovative hydrostatic drive dozer range, followed in 1978 by the tracked loading shovels which also employed a hydrostatic drive system.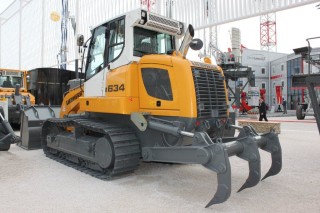 Wheel loaders were next to arrive in the UK and this occurred in 1985, quickly establishing themselves in the British market in a diverse range of applications – from quarrying and aggregate rehandling, to waste and recycling, general materials handling and agriculture. The company continued to expand its customer base and staff, and eventually outgrew the Hatfield premises and in 2005 moved to a new custom built facility in Biggleswade, by now employing over 200 personnel.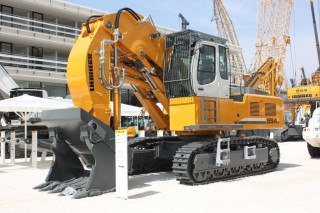 Liebherr-Rental Ltd. was incorporated in February 2007 and eventually launched in January 2008. The company is entirely autonomous, focussed on delivering first class short- and long-term rental, allowing access to high quality Liebherr products for new and existing customers. A total investment of over £20 million in rental equipment has created a substantial and varied hire fleet of earthmoving, quarrying, demolition and specialist materials handling machinery. Furthermore, Liebherr-Rental Limited also has easy access to a pool of over 3,000 additional machines available through Liebherr in continental Europe, including equipment for tunnelling and other highly specialised applications.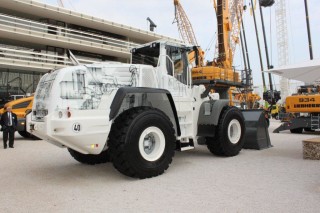 Liebherr-Great Britain Ltd. is an integral part of the British and Irish construction, mining, materials handling, plant hire, waste management and associated industries, playing a leading role in providing these markets with state-of-the-art equipment and national spares and after-sales service from a well-established depot network.
In addition to the UK headquarters at Biggleswade, depot locations are: Aberdeen, Bathgate (West Lothian), Sunderland, Ashton-in-Makerfield near Wigan, Cannock, Sheffield and Weston-super-Mare (Somerset).
As a subsidiary of Liebherr-Great Britain Ltd., Liebherr-Construction Equipment Ireland Limited is headquartered in Rathcoole, Co. Dublin, serving both Northern Ireland and The Republic of Ireland for construction plant and equipment from this well-established depot.
In addition to the traditional UK building, construction and plant hire industries, Liebherr-Great Britain Ltd. also serves many specialist markets with its impressive ranges of equipment. These include mining and quarrying; the recycling and reclamation industries; demolition and dismantling; coal and aggregate rehandling; landfill and municipal waste operations; water, gas and electricity utilities; agriculture, drainage and forestry. Liebherr's success in these specialist British markets is indicative of their expertise in providing productive and long-lasting capital equipment for every materials handling and excavating application. The Liebherr name is synonymous with quality, engineering excellence and high-technology innovation throughout the British Isles.
The Liebherr Group also has major line-dedicated factories exporting throughout the world in Sunderland (manufacturing ship and off-shore cranes, gaining the Queens Award in 2009) and Killarney (container cranes) where there are also three magnificent group-owned hotels. Altogether in the UK and Ireland, Liebherr currently employs a total of approximately 1,100 personnel.