The Digger Blog will be making tracks for the impressive Liebherr stand at Bauma 2013, and one of the first machines I will be looking for during my visit will be the face shovel version of Liebherr's R 9400 mining excavator, which is highly anticipated to be displayed alongside one of the company's mining dumptrucks, in a scenario similar to the 2010 event as seen in this photo.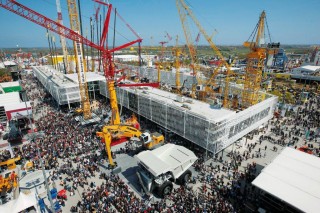 With a 22m³ bucket as standard equipment, the R 9400 is, according to Liebherr, the ideal machine for loading a mining truck fleet in the 136 tonnes class. The R 9400 is available with either a diesel engine or an electric motor, for optimal flexibility in a wide variety of applications. There are currently over thirty R 9400 hydraulic mining excavators operating in four countries. The latest R 9400 commissioned in a Ghanaian gold mine, is the first model in face shovel configuration. The excellent productivity that the R 9400 is known for in backhoe configuration, is expected in its face shovel configuration.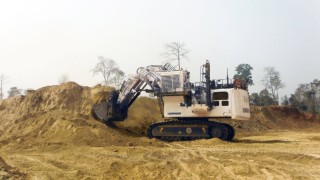 We look forward to getting a closer look at this machine in Munich, so look out for a report on my return if you can't make it to Bauma yourselves.