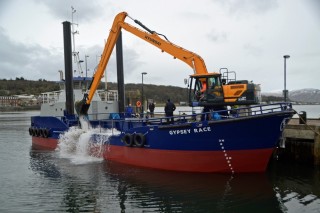 The boat was commissioned by Bridlington Harbour Commissioners, which has been without a dredger for 20 years and been relying on contractors. It decided it was time to get its own vessel again and called in Marine Design International to help out. A specification went out to tender and the contract was won by to Ardmaleish Boatbuilding Company, based on the Island of Bute.
Build on the new vessel, the Gypsey Race, began in April 2016. Within the contract there was a provision for Ardmaleish to purchase a second-hand excavator for the new dredger. Ardmaleish managing director Ewan Ferguson says: "I did some extensive research on excavators online and got in contact with Leigh [Dalgleish] from Young Plant as I knew that the Hyundai excavators were one of only a few machines that could be fitted to a dredger without major alteration."
He adds: "Leigh had a brand-new excavator in stock but it was a three-year old model – we discussed other alternatives - and for £10k more the dredger barge could be fitted with the latest Hyundai long reach model built to our specification. It was an easy decision to make – we had very latest Hyundai model for not a great deal more money. Also, I had researched into second hand models and I really did not like the idea of putting an old machine on a brand-new boat."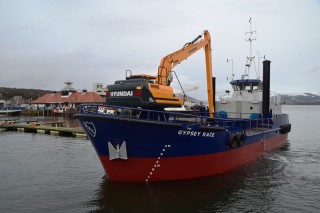 The Gypsey Race was built to replace Bridlington Harbour Commissioners old dredger which was also called the Gypsy Race, but spelled differently. This was scrapped in 1997, since when Bridlington has used contractors to dredge the harbour, but that was a more expensive option than owning its own dredger – hence the decision to commission the new boat.

Fitting the HX220LR to the 25-metre vessel was carried out in stages. "The machine was mounted on the barge once build was complete," Mr Ferguson explains. "We designed the stool and flange to suit the HX220LR from drawings provided by Young Plant, which made it relatively easy to fit.
"Firstly, we removed the excavator from its tracks and took a template of the flange. We then drilled the flange and welded it onto the ship. We removed the boom off the machine and we craned the cab in first and bolted it to the stool that we made to sit it on. We then fitted the boom once the machine was in place."