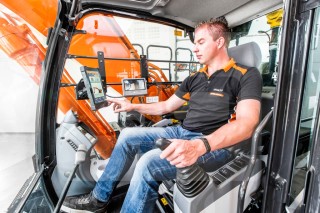 According to the manufacturer this 23-tonner is between 30% and 50% more efficient than its earlier models. It is easier to operate, more accurate more productive and safer, it is claimed.
Hitachi Construction Machinery (Europe) product manager Wilbert Blom says: "The ZX210X-6 excavator plays a pivotal role in Hitachi's ICT construction solutions, which connect people, information, processes and technology to create safe and productive working environments. More accurate than its competitors, it is the most technologically advanced Hitachi excavator to date."
The semi-automatic operation of the front of the ZX210X-6 excavator controls accuracy, optimising repetitive tasks.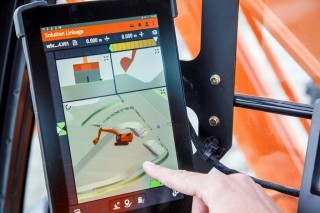 One of the features that enable the ZX210X-6 to work more quickly than conventional models is the bucket angle retention. With the angle of the bucket maintained throughout, slope finishing can be carried out with fewer movements, for example. The operator can just focus on the operation of the boom and arm.
Another feature is the overcut protection function, which enables operators to work quickly without digging. The edge of the bucket is controlled so that it follows the target surface.

Sensors mounted on the body, boom, arm and bucket enable accurate measurement of the excavator's incline, and the angle of the front of the machine, working with the hydraulic control unit.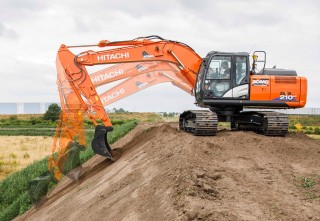 Positioning can be determined with the 3D system – 3D civil engineering design data can be downloaded by the machine via the internet or installed with a USB device, and its position and altitude are then ascertained by satellite positioning and the sensors.
Alternatively, the 2D system uses coordinates calculated from design drawings and data entered manually by the operator into the control panel. It uses the machine as a reference point, taking information from the sensors. Some staking is required for measuring on site when using the 2D system, whereas this is significantly reduced using 3D.
The factory-fitted 10-inch touchscreen monitor in the cab is from Trimble and operates like a smartphone. The operator can rotate the view of the machine 360° and zoom in and out to monitor detail. The view can be customised according operator preference, and there is a split-screen option to show two or three views simultaneously.