For as long as I can remember the Cannock site has been the spiritual home for Caterpillar dealers in the UK. As a school lad I can recall sending letters to Bowmakers who were the dealership on the site at the time, requesting brochures on the Caterpillar machines, something they were always happy to oblige with. The dealership was taken over by H Leverton's, and eventually Finning's, the global dealership who have been selling and servicing Caterpillar equipment for over 78 years .
Our guide for the morning was Andrew Bradbury, a long serving member of staff at Finnings, who now works as a technical and customisation engineer. Our first port of call was a walk through the impressive main workshop, on entering visitors are greeted by the fine example of a circa 1940's Caterpillar D2 as seen in the above photo. The 32 hp machine was fully restored by apprentices on site and now takes pride of place at the entrance.
Next up was the Cylinder Express bay where hydraulic rams are repaired, resealed and refurbished. The team in this bay can even make one off custom built rams to customer specifications. It was impressive to see the large stocks of shiny new rod which can be cut and utilised in ram manufacture on site and in house.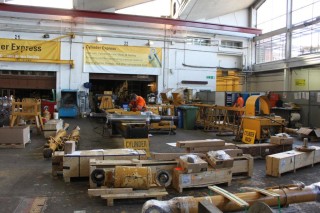 To the left of the ram bay were some 777 dump trucks, which looked like they could be from UK coal. These machines are undergoing major refurbishment work and are effectively being given a second lease of life.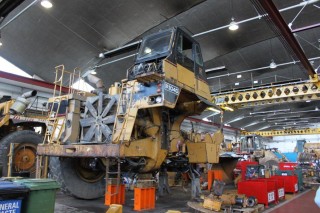 Further down the workshop is the used equipment bay, where second hand items that have been sold are worked on depending on the deal the buyer has done with the salesman. Some machines are purely serviced, but some are given cosmetic treatment to repair damaged panels and bodywork all really depending on what the customer requires and wants to spend.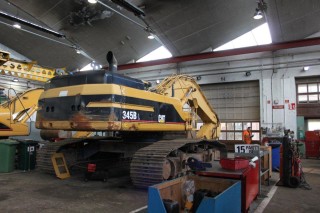 And finally a look back up through this impressive workshop. It's an old building but was probably cutting edge when it was built, I especially like the way the roof windows were designed to let in a lot of light, but still provide shade for those working below.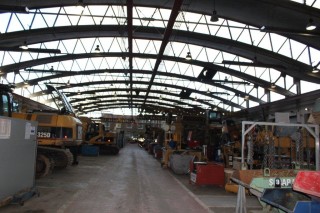 We then progressed outside into the yard area and boy were we in for a treat! One of an order of four Caterpillar 657G motor scrapers was parked just outside. These machines are fitted with coal bowls which increase the capacity from 44 cubic yards to a massive 59 cubic yards.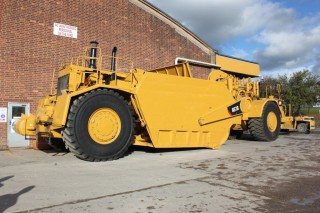 These 657G's are the largest scrapers in Caterpillars portfolio and are the first to be sold into the UK for many years. There were two of these monsters in the yard on the day of my visit but I believe all four will eventually be heading for the Drax power station in Yorkshire. It sure would be good to pay them a visit in the future to watch them in action. These machines will undoubtedly have a long life at the power station as coal tends to have good lubrication properties and machines working in this sector are invariably rebuilt over and over again.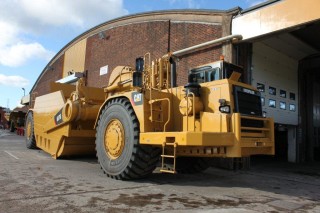 Next up more quality used equipment to look at and this fine example of a Cat 140H motor grader caught my eye.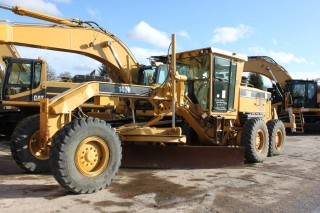 Lastly in this report a brand new Cat 345D LME hydraulic excavator, which Andrew was keen to show us. This machine is fitted with a Finning custom solutions access system. The stairway system is raised hydraulically from the operator's seat facilitating safe access and egress to and from the machine at all times.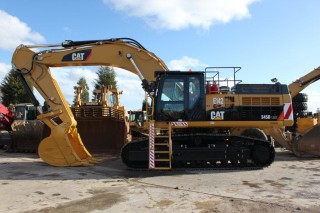 These access systems are custom built and retro fitted to machines in Cannock as well as a whole host of other custom made items which we will explore further in part two .