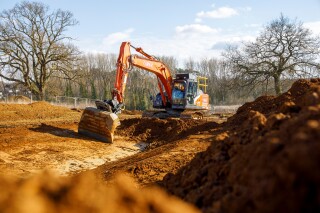 To date, Northamptonshire-based Carmac has selected Leica Geosystems' 3D machine control and Engcon tiltrotators to be installed on its new ZX130LCN-7 and ZX210LC-7 excavators.
The Hitachi Connected Technology (HCT) service is supplied by Hitachi Construction Machinery UK's (HCMUK) production facility in Hebburn on North Tyneside.
"As a supplier to the housebuilding market, we've always aimed to be an early adopter in the use of technology to make us more efficient, productive and safe," says Carmac director Colm Kilroy.
Carmac had Leica Geosystems' 3D machine control fitted on a trial basis to two of its Zaxis-7 excavators that were working on a large house-building site in January 2022. "We found massive productivity benefits, as well as improvements to efficiency and safety," Kilroy explains.
"In addition, the Leica Geosystems equipment enabled us to take a more predictive approach by tackling problems before they occurred. The benefits of 3D machine control became clear while working on the roads and sewers, as well as the foundations and external drains for the housing plots."
Two of Carmac's most experienced operators, Jim Lonergan and Gary Draper, have worked with every generation of Hitachi Zaxis machine, from the -1 to -7 series. Between them they have more than 70 years' operating experience.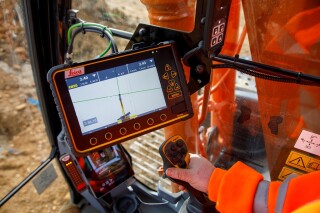 "The Leica Geosystems machine control is sheer genius and the technology speeds up the process so much," Jim Lonergan says. "It saves me time, because I can check all the levels and angles, and I don't have to rely on anyone with a laser. I can also see the model on the monitor screen and hear the alert when I am digging to certain levels."
Gary Draper adds: "The machine control system is a great piece of kit. I don't have to wait for engineers now that I can be left alone, safe in the knowledge that there's nobody working around the machine. For each phase of the project, the model is already there on my monitor and I am able to work away."
Similarly, Carmac tested Engcon tiltrotators on three of its Hitachi models on various activities across the site. "We immediately saw how beneficial these were around the plots and on piling jobs, as well as for the ponds and roads," says Colm Kilroy. "In addition, they reduce the need for people to work near the machine and therefore are well worth the investment."
"The tiltrotator is very good, as it enables me to dig at different angles from one position – without having to move," adds Jim Lonergan. "It's easy to work with as all the angles and tilts come up on the screen, which means that I can still ensure that everything's level – irrespective of the machine's position."
Fellow operator Gary Draper agrees: "I can save time by not having to move around the site as much when digging out sewers and levelling stone ready for tarmac on the roads. The integrated gripper is also a useful attachment for grabbing tree stumps and undergrowth."