This event is organized to support and raise funds for the En Coeur Foundation, a French-Canadian charity that raises money for children with heart disease. The event is a very family friendly affair and with a small donation to the charity, visitors are invited to try out the machines under the instruction of an experienced operator.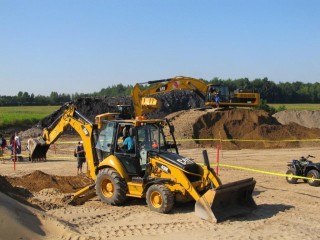 Following on from last year's successful day, this year's event was twice as big, with around 30 different machines on show, all donated for the day by their owners, some of which were contractors and some from local dealerships in the St-Hyacinthe and Granby regions. To have some "stick time" on the machines visitors had to purchase coupons priced at $5 for 5 minutes of operation, or 4 coupons at $15 which gave you 20 minutes of operating time, with all proceeds going to the charity.
The major attraction this year was Les Entreprises Allaire et Gince's Caterpillar 345D L hydraulic excavator, which took pride of place sat on a big sand mountain at one end of the pit, with some nicely cut steps formed into the heap for the visitors to make their way up to the machine.
Also owned by the same company was this new Caterpillar 966H wheeled loader, which was drawing a lot of attention on the day.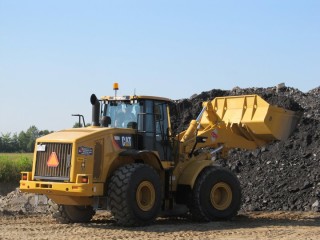 Two more Caterpillar machines from local contractor Michaudville's were also on show, in the shape of this 2011 model Cat D6T LGP track type tractor.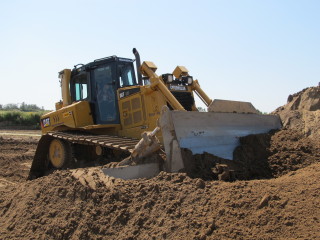 And as featured in the recent "Bigfoot" post here on the Digger Blog, this 2006 model Caterpillar 938G loading shovel.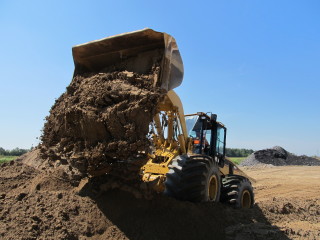 There were also two operator challenge competitions running throughout the day in the pit for the experienced operators to test their skills on. One contest which was organized by the pit owners Dexsen, using their Hitachi Zaxis 200LC-3 hydraulic excavator.
And a wheeled loader contest using one of Case's latest wheeled loaders the 821F, which was organized by Bock Equipment who are the local Case/Link Belt dealership.
Bock Equipment also brought along this Link Belt 350X2 35 ton hydraulic excavator, which was looking stunning in its red, white and black livery.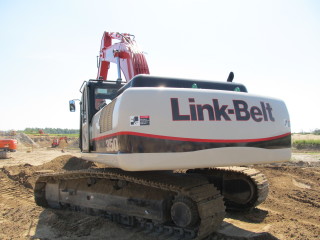 Anthony was at the event from the start of the day, and was invited to take to the controls of Dexsens Hitachi Zaxis 200LC-3 to assist with the reinstatement of the pit at the end of the show. Anthony commented, "With more people attending this year than ever before I can definetly say the event was a complete success".
I personally think this kind of charity event is a fantastic way of raising money for worthwhile charities, it's just a real shame we don't have anything similar in the UK. Maybe we could arrange a Help For Heroes machine driving charity event in the future, any thoughts on this readers?