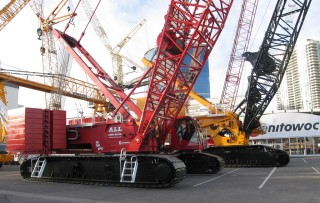 Manitowoc makes crawler cranes but, as I've said before, doesn't sell much in the UK. Contractors here have gone from favouring NCK and Ruston Bucyrus to Japanese machines for smaller and mid sizes and German ones at the upper end. However, in much of the world Manitowoc remains synonymous with lattice boom crawler crane, so it is always interesting to see what they are up to.
And at Conexpo they've got two new machines using the new Variable Position Counterweight (VPC) system first seen on its top-of-the-range 31000 model (2,300-tonne capacity).
The new MLC650 crane (that's the red one in these photos) is rated at 650 tonnes capacity and the MLC300 (the yellow one) at 300 tonnes. It's a pleasant surprise, that, since Manitowoc in the past has tended to give its cranes names that reveal absolutely nothing about their lifting capacity, like the 999, which lifts 250 tonnes, and the 18000, which lifts 600 tonnes.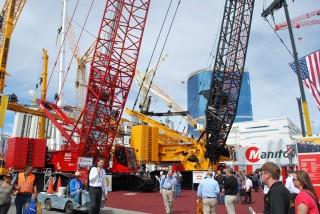 Anyway, the most notable feature of this new crane is the VPC system, which automatically positions the counterweight to suit the required lift. If the boom is lowered and more counterweight is required at the back end, the ballast moves along the rotating bed away from the fulcrum by just the required distance. It means there is less ground preparation, lower ground-bearing pressure and less counterweight, without losing capacity. Clever stuff.
According to senior vice president John Kennedy, the VPC is a game-changer. He claims: "This new technology will have a significant impact on the lifting industry, as it enhances crane capacities, reduces mobilization time on the job site, and in the end, saves customers a significant amount of time and money."
The MLC650 has a 104m main boom, 30m fixed jib and 101m luffing jib option for a maximum ream of 157m.
The MLC300 has 96m of boom with the option of a 30m fixed jib attachment. A 96m luffing jib can also be added to extend its reach to 144m.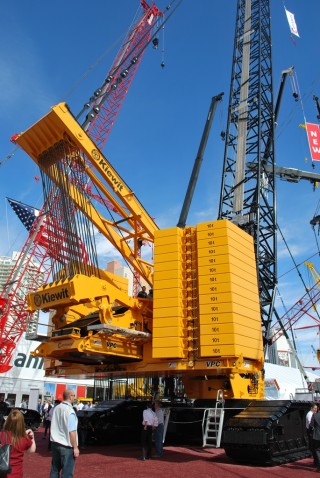 There is also a VPC-MAX capacity enhancing attachment that allows increased capacity for heavy lifts that would usually require a wheeled-type ballast trolley.
The VPC-MAX attachment increases capacity and boom and jib combination lengths. The counterweight movement is based on the lifted load, boom length, boom and jib length, and load radius. The MLC650 can raise 140m of boom with the VPC-MAX attachment and a boom and luffing jib combination of 205m. Maximum capacity increases to 700 tonnes with the VPC-MAX installed.
Because the counterweight attachment of the VPC-MAX never touches the ground, it can be used on barges, for example, where a trailing trolley could not be used.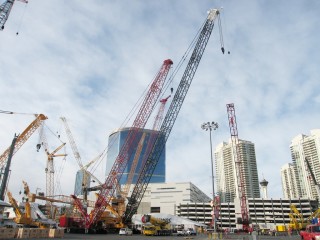 No doubt a competitor will try and come up with a similar solution but they should beware Manitowoc's eagle-eyed attorneys who are already on the case of Chinese manufacturer Sany for infringing VPC patents.
Manitowoc filed its patents in 2007 and 2008. In 2010 its chief designer John Lanning left and moved to Sany. Sany then introduce what it calls 'Auto Counterbalance Equalization' or ACE on its 500-tonne SCC8500. You may remember my post from the last Conexpo, in 2011 – http://www.theconstructionindex.co.uk/news/view/chinese-manufacturer-blows-up-veteran-crane-engineer-to-make-its-point – about Sany plastering up 100ft-high posters of Lanning around the show ground to rub Manitowoc's nose in it. It seems there's no love lost there.