Armac had to complete an overnight bridge demolition at Toddington, on the M1, and renting a massive 6 tonne breaker for one of their big Cats from Sandhurst, provided the belt and braces needed to get the job done. As with any motorway bridge removal, time is the enemy and closing one as busy as the M1 is guaranteed to get maximum attention. And, for Armac, the consequences of not completing the project within the planned timeframe, ready for Monday's rush hour, was simply unthinkable because of the immensely high cost of motorway closure.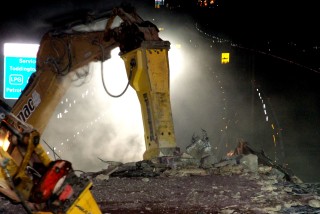 The particular bridge in question, weighing about 1400 tonnes and heavily reinforced, had been unused since May after the opening of a new replacement. For this project, the old structure had to be removed to make way for new slip roads at junction 12, as part of a motorway improvement scheme between J10 – J13.
Costain were the main contractor and Armac, the specialist demolition contractor. The demolition commenced at 8pm Saturday night and the 16 hour race to finish and reopen the motorway by midday on Sunday was on.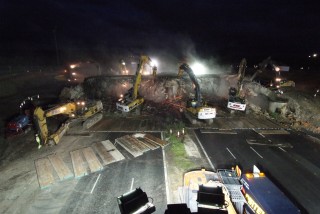 For the demolition itself Armac had 11 excavators of various sizes on the job, mainly fitted with breakers. And although other Atlas Copco breakers being used were owned by Armac, supplied previously by the sales division of Sandhurst, one more massive breaker was needed to be sure of meeting the deadline.
Sandhurst Equipment Rental supplied one its most powerful rental fleet breakers, an Atlas Copco HB5800. Weighing in at approximately 6000kgs, the HB5800, suitable for carriers over 50 tonnes, was attached to one of Armac's uprated long reach Cat 345CL's fitted with a standard boom. Suffice to say, with the Cat / 6 tonne Sandhurst breaker combination working as part of a small army of machines and attachments on site and with Armac firmly in control, the motorway bridge stood little chance and the M1 was successfully opened again on Sunday at midday.