This large Hitachi EX8000-6 in backhoe configuration, is the first of two models that are being delivered to Rio Tinto's Nammuldi iron ore mine, which is situated 60 kilometres north-west of Tom Price in western Australia. Nammuldi is an open pit operation, with on site processing facilities and has the capacity to turn out around 6.6 million tons per annum.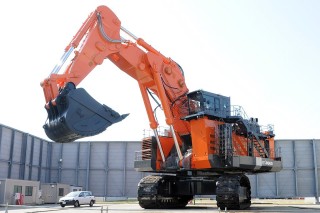 The mine currently runs three Hitachi mining machines, which consist of, 1 x Hitachi EX1900 and 2 x Hitachi EX2500 machines, but the delivery of the EX8000 -6's now means they will be running the largest excavators that Hitachi manufacturers. The EX8000-6 has an operating weight of 811000 kg's and is powered by two Cummins QSKTA60-CE 1,450kw (1,940hp) engines. Another impressive statistic is that the machine requires a 14,900 litre fuel tank to feed its two powerful engines!
These new machines will primarily be put to work loading haul trucks on site, which consist of 4 x Komatsu 785-7's and 18 x Komatsu 730E models.

We thank Karyl for sharing these photos with The Digger Blog.
(First published 2012-11-21 19:07:46)